This 700-Page New James Bond Book Is an Early Father's Day Present
'Nobody Does It Better' might be the greatest behind-the-scenes book about movies, ever.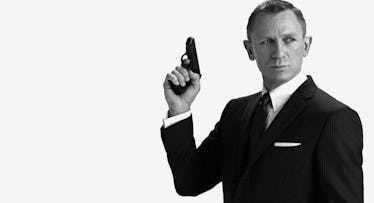 MGM/Sony/EON Productions
Are you into film history and useless facts about James Bond? Good news, an absolutely addictive new book has just been published, and it's probably the most fun you'll have not seeing a James Bond movie, ever.
This week, a new 700-page tome titled Nobody Does It Better hit bookstores and online booksellers and it's really, really fucking cool. Written and compiled by longtime pop culture historians and journalists Edward Gross and Mark A. Altman, this book takes you through the entire 58-year-history of the James Bond movies, one film at a time. Ever wondered what it was like when they were trying to recast Bond? Curious about how those early Connery films pulled off those massive set pieces and crazy stunts? Want a little behind-the-scenes Bond gossip. It's all here.
The subtitle of the book is the Complete Unauthorized, Uncensored Oral History of James Bond, and that's important, because for the most part, the authors of the book, let their subjects do the talking. This book is broken up into different decades of Bond, but the meat of the text is predominantly just direct quotes from every single important person who worked on these films. Whether its Daniel Craig's stories about working with Eva Green or the various writers revealing the exact moment when the Bond puns were invented, you'll learn more about the hidden world 007 just by reading two pages. This book is packed with great information.
Even if you're a casual fan of Bond, there's a good chance this book will leave you shaken and maybe a little bit stirred.
This article was originally published on