With 'No Good Nick,' Sean Astin Becomes Netflix's Weirdo Sitcom Dad
That guy, you know, the dude who played Rudy and Samwise. He's becoming the streaming era's resident father figure.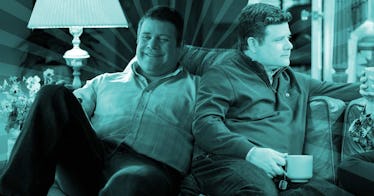 Netflix
For fathers who came of age in the nineties, journeyman actor Sean Astin doesn't just have a familiar face; he has the familiar face. He was Rudy in Rudy, Samwise Gamgee in The Lord of the Rings trilogy, and, prior to that, Mikey in The Goonies, But Astin isn't an innocent hero on an inspiring adventure anymore. He's evolved into more of a fun dad figure, stepping into the role of wannabe stepdad Bob on Stranger Things and, now, the far-too-trusting father, Ed on the new dark Netflix comedy No Good Nick. The new series centers on the eponymous Nick, a young girl who pretends to be a long lost relative of a hapless American family. Nick is actually an embezzler and a criminal, despite the fact that she's a child, and she's there to rip-off her adoptive family, not be loved by them. Early reviews called this series Scandal, but for kids, but it's closer to a version of A Series of Unfortunate Events where the orphans are trying to screw-over their guardians.
At first, No Good Nick feels like a knock-off of a nineties show like Full House or Family Matters, but that's only because it's hiding a slow burn that eventually turns it into a drama. Is Nick going to actually screw over her adoptive family or not? Is Astin's sitcom dad Ed really as stupid as he seems? No Good Nick is using the artifice of an old sitcom — and Astin's likable goofiness — to lull audience in advance of a twist: The show is actually a meditation on how, in real life, we all want to believe in the premise of a sitcom family, even if reality is much harsher.
Astin spoke to Fatherly about becoming a sitcom dad, becoming a real dad, and why he'll never get tired about talking to strangers about Lord of the Rings.
No Good Nick feels like a '90s-style sitcom throwback. It's got a laugh-track. The music is goofy. It feels kind of like a nostalgia piece.
That's what I love about it. That's absolutely what I was hoping it would be because as you saw, that genre gets a little bit inverted when it starts getting dramatic and the main character starts doing things that are criminal and unappealing even though she's appealing. There's a weird way in which the more kind of traditional sitcom proceeding style, which is filmed in front of a live audience, the more you establish that the more disturbing it is when it goes in the other direction.
Are you becoming to the Netflix go-to "Dad" character? I'm thinking about you in Stranger Things season 2 and now, No Good Nick. Do you feel like you're getting typecast in more dad stuff now?
Here's hoping! I mean I think there's no question that the folks who did the show knew I was right for this character because they had seen Bob in Stranger Things. They knew exactly what they were doing. In a way, Bob never got it… he wanted to be this father figure, step-dad. He wanted to create a normal life for Joyce. He had that upbeat attitude and positivity and that didn't work out so well for him, but you could only imagine if there weren't demogorgons… maybe, you know. I think when Bob died and went to heaven, he became Ed in No Good Nick!
That checks out. So, Bob in Stranger Things wanted to be a sitcom dad, but Ed really is a sitcom dad, right?
I think there's obviously a relationship between those two things: the tone and the note. I've always wanted to do a sitcom, so I'm so grateful that we've done 20 episodes. We're on episode 19 right now, and I really lived it. I've lived the sitcom life for seven months. If being a dad on a kids show, if that's what it means, sign me up again.
Has being a dad ever impacted the types of roles you've taken?
As an actor, you go where the jobs are. As an artist, you find your way to different art that explores different aspects of your emotional life and psychological life. I've noticed throughout my entire career, the work that I do in my life seems to reflect my life. Not always. But a lot. I've got three daughters, so I'm pretty comfortably cast in the role of the father with kids. I've stepped into parts in different Christian movies. I think I've always had a strong moral point-of-view. But… I've also played in horror films, a flesh-eating virus movie, and a voodoo cult movie! I don't say no to movies based on an artificial moral test. There are things that I do that I'm thrilled for my kids to watch and there are things that I do that I'm not thrilled for them to watch. I do a lot of cartoon voiceovers and stuff. They brag to their friends about that. They see Rudy or Lord of the Rings trilogy and they're impressed.
You have a lot of outspoken views on environmentalism. How do you balance the pessimism and the optimism with parenting?
Well, I think we model for our kids how we absorb bad news. The U.S. climate report will come out and say, 'If in 20 years things don't change atrocity horrors are going to befall the planet.' A lot of times, the way I was reacting to news like that is to feel the shock and gravity of it and send that [anxiety] back out to my wife and kids. And what I realized over time is that's not helpful. But that sensation is not going to solve anything. I have come to understand that there are tens of hundreds of thousands of people working very hard at innovation and discovery and science and business to try to deal with climate issues. So hopefully, we can, as individuals, be conscious and conscientious and do what we can do.
If anything, what I want my kids to understand is that there are people doing great stuff, so when the doom and gloom naturally come, you don't have to feel overwhelmed by it. What's gonna happen is gonna happen. There's no point in wallowing in it. Can we help them? Can we participate? Can we, at the very least, celebrate what they're doing or share what they're doing? There are lots of ways to participate though. So, the simple answer is: The negative feelings come in overwhelming amounts and we process them and we move on and try to be productive.
For my generation, you are the guy who was Sam from Lord of the Rings. That character embodied a lot of male virtue, loyalty, the unassailable hero. Do you ever get kind of sick of hearing this? Are you tired of guys like me saying "Oh man, Sam is the best."
No! It never gets old. I mean listen, the character, the written character, it's such a gift to the literary world and the performing world. Also, I can never live up to it in my own personal life. I go to these conventions and I'll sit and meet 300 people in a day. And most of them have something positive to say about Lord of the Rings, so it's not like those compliments are new. But, my father taught me as a very young boy that every human interaction is sacred. When someone tells you they felt that way, it's the first time you talked to that person and it's the first time they told you that. So if you don't honor that, you're missing out on what it means to be a human being. So no, it never gets old.
Are we going to see more of NO Good Nick after this season?
Well, the first ten episodes are out and the second ten somewhere in the fall. Everyone around me on this show—I'm in my dressing room right now—everyone is rooting for a second season. No one knows what it would hold, but we all like the rhythms. I think I can speak for everyone that we enjoy the rhythm of this experience. Now, it's about will the characters go into people's hearts? Does this idea of a traditional sitcom that's kind of twisted into this thriller drama vibe, does it work? Do people want to see it? Hopefully, they do.
The first ten episodes of No Good Nick are streaming now on Netflix