Here's Exactly When Nirvana Might Change That Controversial Album Cover
Dave Grohl hinted that one of the most iconic album covers ever could be getting an update.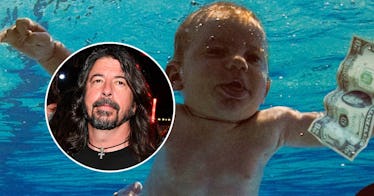 GETTY
Nirvana's Nevermind has one of the most iconic album covers ever but according to Dave Grohl, it could be getting an update due to the 30th anniversary, as well as a direct result of the controversy caused by a lawsuit launched against the band.
The album is set to be rereleased in November to celebrate its three decades of existence and the former Nirvana drummer acknowledged that it's possible the cover could be changed.
"I have many ideas of how we should alter that cover but we'll see what happens," Grohl told The Sunday Times. "We'll let you know. I'm sure we'll come up with something good."
But the change may have less to do with the anniversary and more to do with the lawsuit, as Spencer Elden, the baby who was featured on the cover, filed the suit against the surviving members of the band and Kurt Cobain's state back in August. The lawsuit claims that the group violated child pornography laws and that Elden's guardians never signed a proper release. He is seeking $150,000 from each of the defendants for suffering "lifelong damages" after being "forced to engage in commercial sexual acts while under the age of 18 years old."
Grohl briefly addressed the lawsuit but mostly downplayed it, explaining that he was more focused on the excitement of the rerelease than worrying about legal proceedings.
"I think that there's much more to look forward to and much more to life than getting bogged down in those kinds of things," Grohl said in the interview.
If there is a new cover, it will be interesting to see what Grohl and former bandmate Krist Novoselic decide to do. Will they go in an entirely new direction or pay homage to the legendary photo in some way? Or maybe this entire lawsuit will be gone by then and the cover will remain the same as it's been for 30 years.