SNES Classic Edition Is on the Way for More Two-Player 'Mario Kart'
The company is rumored to be releasing a SNES Classic by Christmas.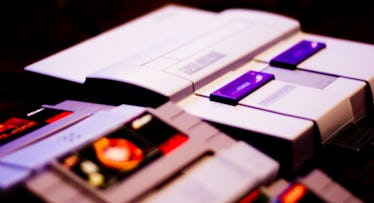 <a href="https://www.flickr.com/photos/miskan/30673835/" target="_blank"> flickr / Mark </a>
Last week, Nintendo bummed out fans by announcing that they would no longer sell the NES Classic. It was a weird move, considering the shrunk-down gaming system sold like gangbusters (apparently they weren't prepared for it to do so well) But the company appears to be making up for the loss, as rumor has it they're releasing a mini Super Nintendo later this year. Although details are thin on the Super Nintendo's release, Eurogamer received information from "sources close to the company" who said the new mini will replace the NES edition, with an expected launch date near Christmas. That means you can school your kid in Super Mario Kart the way they school you in every other modern video game.
If the rumors are true, the SNES Classic, much like the NES Classic, will come pre-loaded with 30 games many of which offer a much more satisfying level of two-player action. And, as yo have decades of experience, you'll have the edge over your kids (at least for the first few rounds). They have no idea pressing Start and Select in Super Mario World is a fail safe before Mario plummets to his death or that Diddy Kong has to cartwheel before those long jumps in Donkey Kong Country. They don't even know that pressing accelerate right before the second light signals gives a starting line boost in Super Mario Kart.
Considering how quickly the NES Classic sold out, here's hoping Nintendo doubles down on production of the SNES Classic — and leads to the release of more vintage systems. Except for the Virtual Boy—no one should ever play that monstrosity again.
This article was originally published on