New 'Willow' Disney+ Show OK Boomers Itself In the Best Way Possible
"Are they going to 'Irishman' your face?"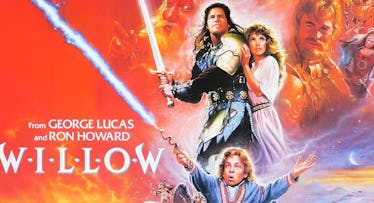 More than 30 years after its initial release, the classic fantasy film Willow is getting a sequel in the form of a new series on Disney+. And to celebrate the upcoming show, Willow star Warwick Davis spoke with some of his new castmates but received a harsh and hilarious reality check about how long it's been since the original film.
Davis, who plays the titular dwarf, tried to connect with his millennial and Gen Z co-stars about their experiences with watching Willow but instead got Okay Boomer'd in the most hilarious way possible. Amer Chadha-Patel had no idea the show was a sequel to a movie and when he discovered it was directed by Ron Howard, he only recognized the name due to Arrested Development.
He then asked Ellie Bamber about her experience of watching the original Willow in theaters for the first time and she politely informed him that she had not been born yet (the film was released in 1988). She then asked the 52-year-old actor what they were planning to do about his face, suggesting that maybe they should "Irishman your face with computers." The only person who showed any enthusiasm for Willow was Tony Revolori but even his compliment was backhanded, as he named the movie his "second favorite fantasy adventure" behind Lord of the Rings (of course).
The entire video is hysterical and shows that Davis has a good sense of humor about the fact that people of a certain age likely have no idea what Willow is. I am excited for the new series, as Willow remains an underrated classic in the fantasy genre and it feels like a universe that could be explored so much more. Hopefully, we are getting something like Netflix's The Dark Crystal: The Age of Resistance, which was an absolutely badass prequel TV show to Jim Henson's dark puppet fantasy.
The Willow sequel series will be coming to Disney+ in 2022.