New 'Star Wars' Movie Is Happening and It Might Actually Be Good
Taika, you're our only hope.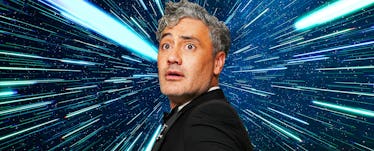 If you've turned to the cynical side of the Force when it comes to Star Wars movies, there's might be a very good reason to be excited about a big-screen version of that galaxy far, far away. A new Star Wars movie has been announced and, based on the very little we know about it, it might actually be good. Really!
Although we know nothing about the next Star Wars movie, we do know who the creative team will be: Director Taika Waititi will be in charge of the next big Star Wars flick, and he'll co-write the movie with Krysty Wilson-Cairns, known for her work on 1917 as well as serving as a staff writer on the TV series Penny Dreadful.
If you're into larger-than-life movies, you probably recognize Waititi's name as the guy who directed Thor: Ragnarok, which, you could argue, is the only Thor movie you actually could ever rewatch. (With respect Kenneth Branaugh, the first Thor is fine, but it's no Ragnarok.) He also, as you might be aware, directed the finale of season 1 of The Mandalorian in which he also played the voice of "nurse droid" IG-11.
As a filmmaker, Waititi's style is hard to pin down. Before Ragnarok, you could describe as a version of Wes Anderson who was from New Zealand. Eagle Vs. Shark and Hunt For the Wilder People have that kind of off-beat feeling we used to call "quirky," but now, most smart people just call "good." That's the funny thing about a talent like Waititi; ten years ago it would have been nuts to think he would be directing Marvel movies, much less the next Star Wars film.
But, let's not get it twisted, this is fantastic news. Even if you've never seen his earlier movies (or his recent satirical film Jojo Rabbit) hiring this guy to breathe new life into Star Wars is excellent news. And there's one reason and almost one reason alone.
He's funny. Something we rarely admit about why Star Wars movies are so successful is because they're generally, funny. Whether you know this or not, George Lucas actually hired screenwriters Willard Huyck and Gloria Katz to punch-up the screenplay for the original Star Wars, which is why you have great lines like Han Solo saying "Boring conversation anyway" before blasting a microphone with a laser gun. Similarly, The Empire Strikes Back and Return of the Jedi benefited from the witty talents of Lawrence Kasdan, the same guy who wrote the screenplay for Raiders of the Lost Ark. And, even if you're not crazy about The Force Awakens or Solo, if you laughed at any of the jokes in those films, there's a good bet Kasdan had a hand in writing them.
For the most part, the Star Wars movies people get the most upset about — the prequels, The Rise of Skywalker, sometimes The Last Jedi, simply aren't as funny as the really classic films. This might be an unfair criterion, like pointing out that every single murder tends to wear shoes, but I think if you search your feelings, you know it's true. If Jar Jar Binks had been actually funny, people would have probably liked The Phantom Menace more. If someone cracked a memorable joke in The Rise of Skywalker, we might not have been so upset about Rey's family tree. Star Wars isn't as serious as we think it is, and it needs to be funny to survive.
Of all the new talent associated with Star Wars, Taika Waititi is the first big-name who feels like a guy who could crack you up without even trying. This is nothing against J.J. Abrams or Rian Johnson, it's just that, on some level, you can imagine yourself as J.J. Abrams or Rian Johnson if you'd made different career decisions. They feel like very talented guys who were also in the right place at the right time. But Taika Waititi feels like a hilarious space alien. He's unique, smart, and specific, and again, he made a movie called Thor: Ragnarok into one of the most straight-up fantastic and hilarious superhero movies of all time.
Right now, Star Wars is having a bit of a moment on the small screen. The Clone Wars finale is pretty good, Mandalorian is beloved, there's the Obi-Wan and Rogue One shows on the horizon, and tucked-in with this news of the new movie, yet another Star Wars TV show is being developed for Disney+; this one being run by Leslye Headland, the mastermind behind Russian Doll. If you're into cool things to watch on Disney+ over the next few years, this is all great news.
But, really, the idea of going to a really big movie, and having that movie matter is a very exciting prospect. And it's even more exciting if that movie just happened to be a Star Wars movie.
Disney and Lucasfilm have not announced release dates for any of this. Yet.
This article was originally published on