The Newest 'Sesame Street' Season Is Only On HBO Max. Really
Don't have HBO? You can still watch on PBS. But you're gonna have to wait.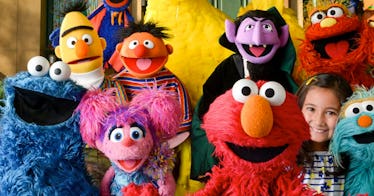 Sesame Workshop
Can you say game-changer? Sesame Street kicked off its 51st season this week and it did so on HBO Max. All 35 episodes will debut on the streaming platform, with the installment running each Thursday. Then, in the fall of 2021, the episodes will air on PBS Kids.
The iconic children's educational series, according to a press release from Sesame Workshop, will devote two years to a "curricular focus on playful problem-solving, brought to life through the new anthem, 'I Wonder, What If, Let's Try,' performed by Hailee Steinfeld." In addition to the multi-talented Steinfeld, viewers can also expect to see Billy Porter, Kelsea Ballerini, Ayesha and Stephen Curry, Maggie Rogers and Issa Rae making guest appearances throughout Season 51.The aforementioned two-year curriculum is meant to foster critical thinking skills in young children and better prepare them to manage obstacles in school and elsewhere. Viewers will see the show's characters — human cast members, Sesame Street Muppets, and guest stars – overcome assorted challenges as they fix a grandfather clock, put on a circus, and try to erect a castle even though they've run out of building blocks. According to Sesame Workshop, the characters "approach these problems with curiosity, creativity, and perseverance, together using phrases and corresponding gestures as starting points in finding solutions: I wonder…? (pointer finger to temple); What if…? (pointer finger to chin); and Let's try! (pointer finger in the air)."Don't have HBO Max? As noted, the new episodes will arrive on PBS KIDS next fall. In the meantime, Sesame Street continues to be available on PBS stations and on the PBS KIDS 24/7 channel, and anytime, for free, on the PBS KIDS Video App.
This article was originally published on