New Board Game Will Make Learning Pokémon With Your Kids Way Easier
Get ready to learn how to lose a fantasy dog fight against your child.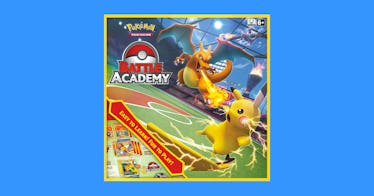 The hardest task a parent will ever volunteer to take on is figuring out how to play the Pokémon trading card game. Internet research can only get you so far. And at some point, most will get lost in the baroque rules and find themselves dead in the water simply trying to figure out how many damn cards you even need to play in the game in the first place. Apparently, this frustration has been recognized by The Pokémon Company International. The folks behind the fantasy cage fighting critters have released the Pokémon Battle Academy, a board game that will not only teach families how to play with the cards but also set kids on a course to build their own strategy and style of play.
The idea of the Battle Academy is simple: Remove all ambiguity. The kit, which is out next week but available for pre-order now, comes with a board that shows players how to arrange their cards on the playing field, and three pre-built card decks filled with a variety of Pokémon, trainer and energy cards. Each player uses a deck to duel their opponent — calling out Pokémon, energizing them, evolving them, and making them fight. It's okay if that sounds complicated. It is. The whole point of the Battle Academy is to walk players through a mock card battle and lower the learning curve significantly.
The cards in each deck are numbered and are meant to be played in a specific order. Think of it as the tutorial level of a video game. The guardrails are up. The outcome is predetermined, and the instructions give a detailed guide for the steps of each turn. Don't know what a trainer card does? Don't know how to evolve your Pokémon? Don't know how to attack and heal your Pokémon? You will by the end of a few detailed turns.
What's particularly nice about the Battle Academy is that after a few rounds with the training decks, kids get a good feel for the rhythm of play. Before long, they can start swapping in cards from their own collection. And suddenly the cardboard rectangles that have littered your house have a purpose. No longer are they just inscrutable cards with cute characters and mysterious symbols, they are a means to victory and household bragging rights.
There are some caveats, of course. In order to play with the Battle Academy kids need to know how to read or have an adult on their team who can read for them. And adults need to have pretty damn good vision to make out the minuscule print. And once kids know how to play, they will crave opponents. So you better learn, and get good, or suffer the humiliation of your Eeevee being knocked out while your kid grins and evolves their Charmander to its GX form.
Yeah, it's complicated. But thanks to the Battle Academy, the Pokémon trading card game is less complicated than ever.
Every product on Fatherly is independently selected by our editors, writers, and experts. If you click a link on our site and buy something, we may earn an affiliate commission.