Whoa. The New 'Suicide Squad' Looks Like the Next 'Guardians of the Galaxy'
The newly retooled sequel from James Gunn looks straight-up rad.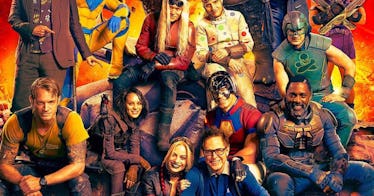 The massive cast of 'The Suicide Squad' with director James Gunn. (Credit: Empire Magazine and Warner Bros.)
Pretend for a second that the 2016 Suicide Squad movie never, ever existed. And THEN look at the new photos of The Suicide Squad just released and you'd think it could be the greatest superhero flick of all-fucking-time. Maybe even better than director James Gunn's Marvel masterpiece; Guardians of the Galaxy.
Let's start with that cover from Empire which features Weasel (Sean Gunn), Blackguard (Pete Davidson), King Shark (Steve Agee), Captain Boomerang (Jai Courtney), The Thinker (Peter Capaldi), Javelin (Flula Borg), Savant (Michael Rooker), Polka-Dot Man (David Dastmalchian), TDK (Nathan Fillion), Mongal (Mayling NG), Rick Flag (Joel Kinnaman), Ratcatcher 2 (Daniela Melchior), Harley Quinn (Margot Robbie), Peacemaker (John Cena) and Bloodsport (Idris Elba). What a friggin' lineup.
Of course, Suicide Squad DOES exist, which makes one wonder, What is The Suicide Squad? Well, it's a bit of a sequel, apparently, and sort of a reboot, but not quite. We've seen the term "soft reboot" tossed around, and that sounds good enough for us, as the film, whatever it is, will give us characters seen in previous DC Universe films, including Robbie's Harley Quinn, and several freshly introduced and fairly obscure figures, including Saturday Night Live's Davidson as Blackguard. Also in The Suicide Squad but not pictured is Viola Davis, who will return as Amanda Waller and likely continue to chew a lot of steak.
These new photos, to be sure, stoke excitement about The Suicide Squad, and they bring several other matters into play as well. James Gunn settles back into a director's chair for the first time since some questionable old social media posts came back to bite him and led to his dismissal as the director of Guardians of the Galaxy franchise. And, while the David Ayer-directed Suicide Squad grossed almost three-quarters of a billion dollars worldwide, many (most, maybe?) fans came away underwhelmed. But, have we emphasized enough that not only is Margot Robbie back as Harley Quinn, but that freaking Pete Davidson and Idris Elba are in this movie??? (Also, for you Doctor Who fans, Peter Capaldi is the BEST cranky Doctor ever, so he's possibly gonna steal the show in this.)
"Listen, David Ayer's gotten trouble for the movie," Gunn told Empire. "I know it didn't come out how David wanted it to come out. But he did one really, really great thing, and that is he picked fantastic actors to work with, and he dealt with these actors in building their characters in a really deep and fearless way. It's something David definitely deserves to be lauded for, and it's definitely added to this movie."As the Joker, who was in Suicide Squad but does NOT appear in The Suicide Squad, might say, "I can't wait to show you my toys." And those toys will be shown… eventually, when The Suicide Squad is slated to open in theaters on August 6, 2021.
You can stream "the original" Suicide Squad on HBO Max right here.
Here's the full scoop on Empire.
This article was originally published on