New Nickelodeon Show Will Star a Famous Star Trek Captain — As a Hologram
Star Trek: Prodigy could be like Max Headroom meets Magic School Bus.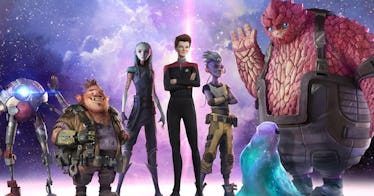 Credit: Paramount+
The guys who made Trollhunters and Lego: Ninjago, are betting that your kids might like outer space adventures. But they're also betting that kids might actually respond to an outer space adventure that "never talks down to them." Kevin and Dan Hageman, are working with Nickelodeon to bring a new kids' adventure show that isn't just about "saving the day, but about the lessons that we learn while trying."
If all of that sounds pretty aspirational and closer to the morals of Daniel Tiger than an actual adventure show, then you might be surprised to learn that this next big Nick show for kids is also a Star Trek show. Aiming to launch on the Parmaount+ network, Star Trek: Prodigy is an upcoming animated series for kids all about a group of misfit tween aliens who find an abandoned starship and start flying around the cosmos in it. But, these pseudo space orphans will be guided by a familiar voice, Kate Mulgrew as Captain Janeway from Star Trek: Voyager. Here's the rub though: this Janeway will be a holographic teacher, who will help teach these space kids everything they need to know about being good outer space citizens. Could this be like a kids' show version of Max Headroom meets The Magic School Bus? We can hope!
Thoughtful values of tolerance and curiosity are core to every successful Star Trek incarnation, and it seems like that's the goal with this show, too. With Kate Mulgrew teaching aliens how to fly a spaceship, but also be better people, this next kids' Star Trek could be amazing. Fingers crossed that this next Trek is both exciting and worthy of the contemplative and peaceful franchise so many of us loved when we were kids.
Star Trek: Prodigy does not have a release date yet. It will be made for Nickelodeon and stream on Paramount+. Here's everything parents need to know about Paramount+.