New 'Get Back' Trailer Gets Real About the Beatles Breakup
Was this album that really broke the Fab Four?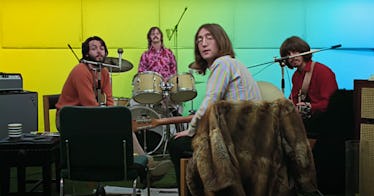 The new Beatles documentary miniseries Get Back is poised to be a celebration of the making of one of the greatest albums of all time. But, it's also going to be a hardcore look at a time when the band was on the verge of breaking up forever. The breakup of the Beatles is one of the most well-known and endlessly debated rock band breakups ever. Who's fault was it? Why do people blame Yoko? How many times did George try to quit? In Get Back, we're clearly going to get closer to these questions than ever before.
On three nights, on November 25, 26, and 27, Disney+ will air all three parts of this documentary, culled from 57 hours of previously unreleased footage recorded during the tumultuous three-week period that the Beatles were making the album that would eventually be known as Let It Be. Back in 1970, a different version of a similar documentary was released, also called Let It Be, but, apparently, that only told part o the story. Now, thanks to director Peter Jackson, Get Back will give us previously unseen footage, untold stories, and an entirely different spin on just what happened during the recording of the Beatles penultimate album. (Although it was released later, Let It Be was actually recorded before their true swan song, Abbey Road.)
Unlike previous trailers for this new documentary, this trailer proves that we'll dive straight into the chaos of what the Beatles went through, and how this album planted the seeds for their eventual breakup. At one point in the trailer, the voice of a documentarian says, the documentary has "ground to halt." But, both John Lennon and Paul McCartney counter, "It's just getting started!"
Could this be the best Beatles documentary ever? Maybe, maybe not. But it looks like it might be the rawest.
The Beatles: Get Back hits Disney+ on November 25, 26, and 27.