Netflix Is Getting Serious About Password Sharing and — Gasp! — Rolling Out Ads
Is Netflix about to become awful?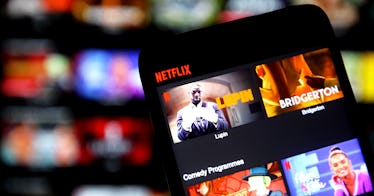 SOPA Images / Contributor / Getty Images
After reporting a loss of 200,000 subscribers in the first quarter of 2022, Netflix might finally be coming for anyone who shares their account, as well as considering introducing a low-cost subscription tier that would include advertising.
It's no secret that password sharing is extremely common in the streaming era but up until now, Netflix has not done that much to crack down on people who let friends or extended family use their account. The company has even acknowledged that password sharing likely "helped fuel our growth by getting more people using and enjoying Netflix."
However, with the streaming service reporting a net-loss of subscribers for the first time in a decade, along with a projected loss of an additional two million subscribers in April-June, Netflix is seriously considering letting the password police punish the 30 million U.S. and Canadian households are using a shared password.
What exactly would that look like? It's not entirely clear but it is could look similar to what Netflix has done in Chile, Costa Rica and Peru. In these three countries, you can share your account (which typically costs $9-15 per month) with others for an additional $3.
The other option that Netflix is reportedly considering? Introducing ads. The streaming service has avoided advertising as part of its subscription model but in order to bring in more subscribers, they could offer a less expensive tier that would come with ads.
Ads are not uncommon in the streaming world, as streamers like Hulu and Peacock feature commercials, but it does indicate that Netflix is aware its days of streaming dominance might be over without some serious strategizing. Fortunately, there's no immediate plan in place to implement either of these tactics but do not be surprised if one day you find that Netflix will only let you keep using your friend's account if you pay up.