Daniel Craig 'Knives Out' Sequels Might Got Straight to Netflix
The streaming service is closing in on a massive deal.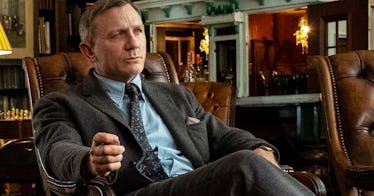 Lionsgate
Knives Out was one of the biggest box office successes of the last few years, making over $311 globally against a $40 million budget. Unsurprisingly, its gigantic profit has made a sequel to the subversive whodunnit a virtual guarantee but instead of heading to theaters, the next adventure with Benoit Blanc may go straight to streaming, as Netflix is reportedly closing in on a deal to land two Knives Out sequels for $400-450 million.
According to Deadline, who originally reported the deal, Netflix outbid Apple and Amazon to get its hands on the rights to make the sequels. If the deal goes through, it would become one of the most lucrative in streaming history.
So, assuming Netflix lands the Knives Out franchise, when can we expect a sequel? Given that the deal is not even done yet, there is no clear timeline or many firm details in regards to a second Knives Out film. Other than writer and director Rian Johnson staying on, the one thing that is widely expected is that current 007 actor Daniel Craig will revive his role as Blanc, the brilliant sleuth with a so-bad-it's-good southern drawl.
Could any other actors return for the sequel? It's hard to say at this point. It has been indicated the next films would involve Blanc solving new mysteries, so it's likely that the greedy Thrombey family will not return. But the one person we'd love to see come back is Ana de Armas, who played Marta and is set to appear in the upcoming Bond film No Time to Die. Could the two collaborate again? Marta's character arc appeared to pretty much wrap up by the end of the movie but if Netflix decides they want her in the movie, we're guessing they could use a little Hollywood magic to make it work.
This article was originally published on