Netflix Jr. Just Launched a Brilliant Bedtime Podcast For Kids
Check out these new Audio bedtime stories, starring Ada Twist, the Storybots, Ridley Jones and more.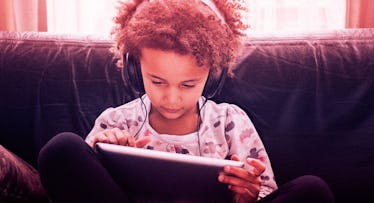 Watching a bunch of TV shows before bedtime is never a great move for kids. And, when children are from 2 to 5-years-old, you pretty much want to avoid letting them watch more than an hour of anything. Still, parents are tempted — lately more than ever — to stretch their screen time rules to the limit. Books are obviously your best bet here, but if you've got a kid that's demanding one more episode of Ada Twist or Storybots before bed, there's now a unique and thoughtful compromise.
As of today, Netflix has launched a podcast called "Bedtime Stories with Netflix Jr." The idea is simple: 15-minute audio bedtime stories, but featuring characters from popular Netflix kids' shows.
Episodes of Bedtime Stories With Netflix Jr.
Right now that means the following eight podcast episodes are:
Because each story features animated characters from hit Netflix shows, it's like getting new adventures of Ridley Jones or Ada Twist, but in audio format! These first eight episodes are only the beginning, too. Netflix Jr. is planning many more Bedtime Stories in this new podcast!
Here's the Ada Twist episode, "Tooth Fairy Bells."
You can listen to Bedtime Stories With Netflix Jr. on the following podcasting platforms.