Catch the Best Heist Movie On Netflix Before It Leaves This Weekend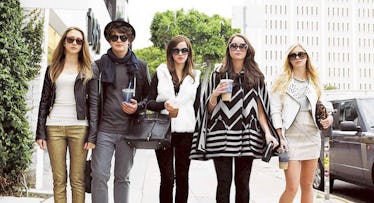 Credit: A24
There are great movies and there are good movies, and there are very watchable fun movies that are worth checking out before they leave Netflix. Sofia Coppola's The Bling Ring – which departs Netflix on January 17 — falls squarely in that last category. (After January 17, you can also catch this one on the Roku Channel.)
This film was based on a Vanity Fair article — "The Suspects Wore Louboutins," by Nancy Jo Sales, published in 2010 – the story follows a real-life group of bored, celebrity-worshiping teens who robbed the homes of circa 2008-2009 A-listers including Paris Hilton, Rachel Bilson, Megan Fox, and Brian Austin Green, Miranda Kerr and Orlando Bloom, Audrina Patridge, and Lindsay Lohan. So, basically, it's a heist movie about tweens robbing twenty-somethings. What could go wrong? Turns out, very little.
The group includes Marc (Israel Broussard), Rebecca (Katie Chang), Nicki (Emma Watson), Sam (Taissa Farmiga), and Chloe (Claire Julien). Their excursions into the stars' houses net piles of cash, fancy dresses, swanky bags, ritzy Rolexes, pricy shoes. "The Bling Ring," as they're dubbed, explode into the pop culture lexicon, sort of early 2000s Bonnies and Clydes. Becoming semi-celebrities in their own right makes them hungry for more, increasingly daring, and, for the most part, blind to the fact that Hollywood's elite, the media, and law enforcement are onto their game and closing in.
Coppola is (duh) the daughter of Godfather filmmaker Francis Coppola and she's intimately aware of the world she's exploring/exposing in The Bling Ring. Coppola nails the period's vibe and the attitude. TMZ and reality TV were all the rage, and the film reflects that. Everything looks as if it's been shot through the lens of a cotton candy machine. The soundtrack is killer, with songs by Frank Ocean, Azealia Banks, Deadmau5, and Rick Ross with Little Wayne, and a thumping score by Brian Reitzell and Daniel Lopatin. Kirsten Dunst, who makes a cameo playing herself, has starred in several of Coppola's films, including The Virgin Suicides and Marie Antoinette. Scenes set at Paris Hilton's house, including an all-important deep dive into her insane closet, were shot at her house and in that insane closet.Among the cast, the biggest revelation is Emma Watson, who wisely chose to pursue a trio of independent films – My Week with Marilyn, The Perks of Being a Wallflower, and The Bling Ring – after completing her decade-long run as Hermione in the Harry Potter universe. Watson really goes for it. She's funny, sexy, and delivers an amusingly flat and vacuous American accent. Though she was solid in Little Women, funny (as herself) in This Is the End, and charming in Beauty and the Beast, Watson delivers her best post-Potter performance to date here. So, why does The Bling Ring rate as a near-miss? That's easy to pinpoint. There's no one to care about, nothing learned. It's all glitz and glamour and surface veneer, minus any emotional connection, and that detachment left audiences cold. Still, there's so much to recommend that, if you've never seen The Bling Ring, it'd be a crime not to catch it over the next few days.You can stream The Bling Ring on Netflix until January 17. Soon!
This article was originally published on