Netflix Games Explained: 4 Takeaway For Families
Netflix officially joined the gaming world this week. So how do you play and is it going to cost you extra? We have the answers.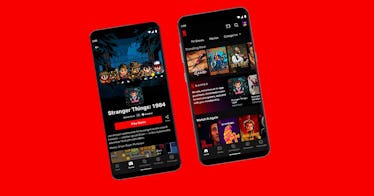 NETFLIX
Netflix remains the undisputed king of streaming but it turns out movie and television domination isn't enough, as the streaming platform announced its entrance into the world of gaming this week with the launch of Netflix Games. Here is everything you need to know if you want to start gaming today.
How Do I Play?
It's pretty simple, you just download the Netflix app on your phone and then find a dedicated games row and games tab where you can select any game to download. From there, you can start playing on your phone. But there is a bit of a catch: Netflix Games are currently only accessible on Android phones. That's bad news for iPhone users, as it's not currently any indication if Netflix Games will become available for iOs loyalists as well.
What Games Are Available?
For now, there are five video games available to play on your phone: Stranger Things: 1984, Stranger Things 3, Shooting Hoops, Card Blast, and Teeter Up. The catalog of games will definitely be expanding over time but for the time being, the selection is limited. Some games can be played offline, while others require an internet connection.
Are There Age Restrictions?
Netflix Games is not available on kids profiles, as the streaming service says it knows "how important child safety is to the parents, caregivers and guardians on our service." So if your kid wants to play, they will need to access the games through your account.
Is It Going to Cost Extra?
Nope! Netflix Games is a part of your subscription to the streaming service and Netflix claims there will be "no ads, no additional fees and no in-app purchases." And members will be able to play games on multiple mobile devices on the same account, depending on what kind of subscription you have.
That's basically everything you need to know but if you want more information, you can read Netflix's press release to get a full explanation of Netflix Games.