What the F**k Is the Netflix Double Thumbs Up Button?
You actually won't believe this wasn't possible before.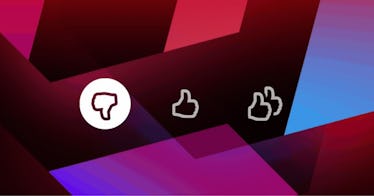 Netflix
Netflix has introduced a new button to help really tailor your streaming suggestions. The streaming giant introduced the Two Thumbs Up button, a super-like function that will join the already existing Thumbs Up and Thumb Down controls. Surprised by this too? Here's what the button does.
One of the best things about Netflix is that it does a pretty good job at predicting what we want to watch. Those suggestions get even better when we use the functions designed to read our minds like the Thumbs Up and Thumbs Down controls. But now if you really, really like one of the titles on Netflix, you can click the Double Thumbs Up button.
"Members have never had as many great entertainment options as they have right now," Christine Doig-Cardet, director of product innovation and personalization experiences at Netflix, told The Verge. "Being able to find the shows and movies that you're going to love is really important. We want to continue to make Netflix the place where it's easiest to choose something to watch."
In 2017, Netflix swapped its five-star rating system which let users choose how much they liked the title (or didn't) for the Thumbs Up and Thumbs Down which didn't differentiate how much you hated or liked something. And that seems to be what this new Double Thumbs Up button aims to balance out more.
"We've been hearing from members that it's important for them to distinguish [between] shows they liked and the shows that they really loved — and that distinction was important to them," Doig-Cardet said to Tech Crunch.
She explained that Netflix tested out a few new input button options, including a heart button to show how much you loved the title. But the results of the trial showed users favored the Two Thumbs Up button above the others – so that's what we get.
We're all for being able to tailor our content and having more variety or difference between "yeah this was OK" and "please give me more of this content," is only going to help with that. Probably.
The feature is rolling out today, across all platforms.