Netflix 2022 Movie Trailer Promises a New Movie Every Week — But There's a Catch
When is 'Knives Out 2' coming to Netflix? Well, the answer is slightly complicated.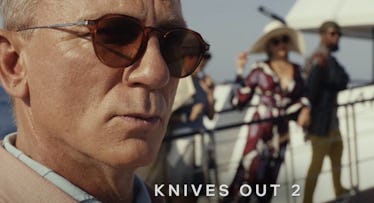 Credit: Netflix
For those of us who mostly watching or movies on streaming, and really only venture out to the movie theater for say, a new Spider-Man movie, or maybe James Bond, 2022 is shaping up to be a pretty good year. Case-in-point, Netflix just dropped a massive trailer promising to deliver a brand-new original movie every single week in 2022. But is that actually true? And when do all these movies come out?
Netflix 2022 Movie Trailer
On Thursday, February 3, Netflix dropped a huge trailer previewing 87 different movies coming to straight-to-streaming sometime in 2022. According to What's On Netflix, the following original, new movies are coming to Netflix in 2022, which is where this idea of a "new movie every week" comes from. Scroll down, if you want to see every single movie listed alphabetically.
However, before you do, here's the catch: Most of the big new movies, like say, Knives Out 2, do not yet have release dates. So, while there are a ton of cool movies coming, many of them don't have exact release dates yet! So for now, we'll give you March 2022 and then, after that, the entire 2022 slate.
March 2022 New Netflix Movies
Against the Ice, March 2
The Weekend Away, March 3
A Perfect Pairing March 11
The Adam Project March 11
Rescued by Ruby March 17
Black Crab March 18
Windfall, March 18
Of these, we're most excited about The Adam Project, a sci-fi comedy starring Ryan Reynolds, Zoe Saldana, Jennifer Garner, Mark Ruffalo, Catherine Keener, and Walker Scobell. In it, Scobell plays a kid version of Ryan Reynolds, and the two go on some kind of zany adventure via time travel.
So, that's the short-term Netflix line-up. Here are all the original 2022 Netflix movies mentioned in that epic trailer. And again, you'll notice many don't have 100 percent confirmed release dates. (Data via What's On Netflix.)
All 2022 Original Netflix Movies