NBC Scrubbed the "Dad Christmas" Saturday Night Live Sketch From the Internet
The video no longer appears on the NBC homepage or on YouTube. A reaction to backlash? Hard to say.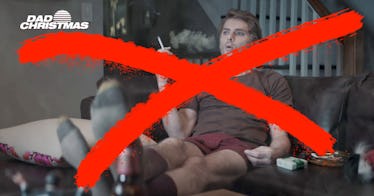 NBC
Last Saturday, December 1, Saturday Night Live ran a short sketch called "Dad Christmas" poking fun at the bleak experience of celebrating the holiday season with a divorced, two-pack-a-day Florida man. The fake ad was somewhat funny, but also fairly disrespectful to the sizable and growing population of single dads engaged in childcare. As we pointed out at the time, the jokes were in keeping with an SNL tradition of lampooning fathers as oblivious, selfish, and lonely. Now, strangely, all traces of the sketch have been removed from the internet. As of Tuesday, video of the sketch has been pulled from the NBC homepage and YouTube.
Was this because of a broader backlash? Hard to say. Probably not. Maybe?
Our criticism of the sketch was a reaction to the tone and insensitivity of the "Dad Christmas" bit. Were we outraged? Nah, life is too short to be that guy. We were just quibbling with the cliched presentation of divorced fathers — pointing out that it's a bit behind the times and unsubtle. We published our piece on Monday, and on Tuesday, NBC — no doubt trembling in the face of mild criticism levied by a parenting publication — pulled the video.
Here's what's funny: At any other point in history, the idea that NBC would have pulled the video to avoid criticism would be rightly treated as ridiculous. Right now, with media brands scrambling to avoid being "problematic," not so much. It's possible. It still seems unlikely, but… there are a lot of single dads around.
Also, Saturday Night Live has a recent history of pulling videos of controversial sketches. In November 2017, one sketch — which suggested Safelite AutoGlass employees were hitting on teenagers — was unceremoniously removed from the internet. In fairness, that sketch was a lot more offensive than "Dad Christmas." Still, NBC has a storied history of preemptive retreat. On September 29, 2018, Saturday Night Live also didn't air an impromptu pro-Trump speech delivered by Kanye West.
Saturday Night Live is an American institution that is funny more often than it's not and that people whine about regardless. Is it important that NBC took down the sketch? Not really. It wasn't great, but it also wasn't anything worth too much concern. That said, the action may be indicative of not only the fact that we live in a sensitive moment but that sensitivity might finally be extended to fathers. That's nice even if censorship is a misguided approach to exhibiting empathy.
This article was originally published on