Nagini Was a Decoy for the Real Harry Potter Easter Egg in 'Crimes of Grindelwald'
Voldemort's loyal companion was little more than a background player in the 'Fantastic Beasts' sequel.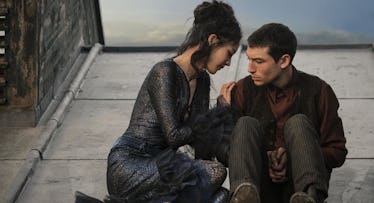 Since it was revealed in a trailer that Nagini, Voldemort's loyal snake companion, appear in Fantastic Beasts: The Crimes of Grindelwald in human form, fans have been speculating about her role in the sequel. Would we learn about her backstory? How did she end up as Voldy's Horcrux? How did she go from a part-time human to a full-time snake? Unfortunately, none of these questions were answered in the film, as Nagini ended up as little more than a background player in the second chapter in the Fantastic Beasts franchise.
Nagini is first introduced at a Freak Show in Paris, where she has befriended Creedence and is helping him search for his birth mother. This seems like a perfect way to integrate Nagini into the central story, as most of the characters in the movie, including Newt and Grindelwald, are trying to track down Creedence. However, Nagini does virtually nothing in the film, having no more than 10 lines throughout Crimes' 134 minute-runtime. We learn nothing about her as a character, as she essentially just provides a shoulder for Creedence to cry on as he tries to figure out who he really is.
Fortunately, we will likely learn more about Nagini in the three upcoming Fantastic Beasts films, as she and Creedence parted ways at the end of Crimes of Grindelwald and she seems to have joined Newt and Dumbledore in the fight against the titular dark wizard. But while the shiny promise of Nagini turned out to be fool's gold, there was a Harry Potter Easter Egg that will surely delight fans: the return of the legendary Philosopher's Stone (also known as the Sorcerer's Stone).
How does the Stone fit into the movie? Through the surprise appearance of its 600-year-old creator, Nicolas Flamel. When Dumbledore sends Newt to Paris to track down Creedence, he tells him if he ever runs into trouble, he can hide out with an old friend of his. Newt, along with his muggle friend Jacob Kowalski, quickly get themselves into a whole lot of trouble and so he ends up visiting the hideaway, which turns out to be the home of the iconic alchemist. It is in Flamel's secret vault that we get a brief glimpse of the Philosopher's Stone.
Fans of the Harry Potter series will remember as the item that grants the owner immortality. In the first book, Voldemort, with some help from Professor Quirrell, attempts to steal the stone from Hogwarts but is thwarted by Harry, Ron, and Hermione. Flamel is only mentioned in the book but at the end of the story, Dumbledore reveals that Flamel has decided to give up the stone and finally embrace "the next great adventure": death.
So is the return of the stone merely a fun wink to Rowling's original Wizarding series or will it turn out to play a larger role in the Fantastic Beasts story? For now, it is not clear but don't be surprised if it proves to have some significance in the rest of the films. After all, Flamel ended up playing a key role in helping Newt fight off Grindelwald and could continue to be featured given his friendship with Dumbledore.
Additionally, it would not come as a surprise if Grindelwald ends up wanting to hunt down the Philosopher's Stone himself, as it would not be the first time that a power-hungry dark wizard would be interested in getting a hold of a stone that grants him immortality. Only time will tell but no matter what happens, Harry Potter fans should be happy to see this fun Easter Egg that may end up playing a larger role in the story.