Watch this Underrated Feel-Good Sequel Before It Leaves Netflix This Month
A classic hidden in plain sight.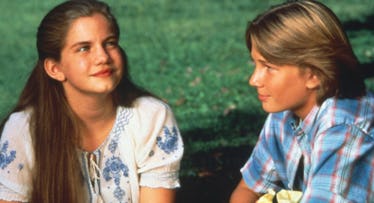 Credit: Columbia
Everyone remembers My Girl. A simple, gentle film about a simple, gentler time – 1972 – the story follows 11-year-old Vada Sultenfuss (Anna Chlumsky) over the course of a summer in Madison, Pennsylvania. Her widower dad, Harry (Dan Aykroyd) runs a funeral home and starts to date a new employee, Shelly (Jamie Lee Curtis). Meanwhile, Vada, who's a hypochondriac and a touch obsessed with death, becomes best friends with Thomas J (Macaulay Culkin), a sweet school outsider with real allergy issues. It's all sunny and funny until everyone's heart is ripped apart – and we're talking about the characters, me, you, and anyone who's ever seen My Girl – when Thomas J dies after a bee attack. Still, the film, which opened in November of 1991, exploded into an unexpected box office hit, catapulted Culkin to stardom, and sold a gazillion copies of its hits-laden soundtrack.
Three years later, Columbia Pictures released the inevitable sequel, My Girl 2, which is streaming until January 31 on Netflix. It seemed misguided. The first film totally deserved its success, but it spun a complete tale and killed off its breakout star. Who'd go see a Culkin-less follow-up? Well, pretty much no one. The film bombed and the reviews weren't kind. And yet… My Girl 2 is an overlooked gem, a perfect family film, a relatable tale for girls on the verge of puberty, and a worthy sequel to My Girl.My Girl 2 shifts the storyline to 1974 and again focuses on Vada, now 13, and pretty much over her fears and obsessions. She's starting to like boys and they're starting to like her. Harry and Shelly are married and expecting their first child. All is good in the world, but a school class assignment – write about someone you don't know – gets Vada thinking about her mom, Maggie. Vada starts digging into her mother's past, but the answers are to be found in L.A. Harry reluctantly lets Vada board a plane to L.A., where she stays with her uncle, Phil (Richard Masur). So begins a modest adventure that involves meeting Maggie's first husband and several of her old friends, watching Mom in-home movies, and developing feelings for Nick (Austin O'Brien), the son of Phil's girlfriend, Rose (Christine Ebersole).It's very syrupy, to be sure. Every scene is lushly filmed, every note of the score and song on the soundtrack is on the nose. All the characters are decent humans and all of L.A. looks gorgeous. Some viewers may find it treacly, and that's a fair critique. But, wow, the camera loves Chlumsky and she's so remarkably natural (even in her voiceover narrations) that you'll smile and tear up right along with her.
Interestingly, Chlumsky dropped out of the business in 1998, at the age of 18, in order to attend college and pursue other career opportunities, including, for several years, working in book publishing. However, as she revealed in 2015 on NPR, the writer Harlan Ellison encouraged her to give acting another go as an adult. "I was editing a science fiction short story collection by Harlan Ellison and he told me I should get back into it," she said. Really! Chlumsky is that cool!
Anyway, after she started acting again, Chlumsky appeared in several shows and films until 2012, when she landed her career-altering role as Amy Brookheimer, Chief of Staff to Vice-President Selina Meyer (Julia Louis-Dreyfus), on the comedy, Veep, right after playing a very similar role in the excellent 2009 political satire In the Loop, along with James Gandolfini and Peter Capaldi. (Also produced by Armando Iannucci!) For Veep, Chlumsky earned six straight Best Supporting Actress Emmy nominations and will next be seen in Inventing Anna, a new drama series from Shonda Rhimes that will debut next month on Netflix. Oh, and Chlumsky is now 41 – yes, 41!! – and married with two daughters of her own. And the eldest daughter is almost as old as Chlumsky was when she shot the first My Girl movie.
My Girl 2 is streaming on Netflix now but leaving on January 31.