Morgan Taylor Knows Why You Hate Bad Kids' Music
Our candid talk with one of the greatest kids' musicians alive.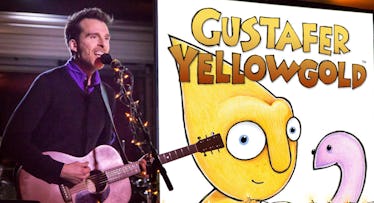 Morgan Taylor/Audible
Morgan Taylor, a prolific singer-songwriter, knows why you hate children's music. And it's either Barney's fault or Harry Nilsson's, depending on how you look at it. The career musician has worked with everyone from Bob Dylan to the Polyphonic Spree and, most recently, members of Wilco. And, with the release of his epic new musical children's audiobook odyssey — I'm From the Sun: The Gustafer Yellowgold Story — Taylor is offering his opinions about children's music, even if he's not totally sure the genre even exists.
"The reason why people shut down when they hear about 'kids' music' or 'children's music' is, I think, because a lot of kids' music is geared toward preschool," Taylor tells Fatherly. "The most popular children's music that has ever emerged is geared toward preschool. So people immediately assume that it's pandering. Like the Wiggles or Barney." But Taylor's music isn't like that. In Gustafer Yellowgold, Taylor has created not only a musical alter-ego but a children's character who exists in a fully realized sci-fi world, which, primarily happens through songs. Gustafer himself is from a race of creatures who live on the sun, and so nearly everything about Gustafer's adventures are defined by that fact.
It's sophisticated stuff, and certainly not for preschool kids. Instead, at nearly four hours long, Taylor's Gustafer Yellowgold (new on Audible) is clearly aimed at the discerning grade-schooler who is interested in the place where indie-pop-folk music and adventures of aliens who live on the sun might intersect. If it sounds insane, it is, but what makes Gustafer Yellowgold work is Taylor's approach. He's both kidding around and serious at the same time.
For the layperson connoisseur of children's music (which is everyone, right?) you might be tempted to compare Gustafer Yellowgold to Harry Nilsson's famous 1971 kids' album and animated film. And Taylor is quick to point out that what Nilsson did with The Point is significant.
"There's no musical difference between what Nilsson is doing on The Point and what he's doing on any of his other records," Taylor insists. "So in tone and intelligence, it's all still the same. He's not all of a sudden singing, 'Richie want broccoli, Richie want broccoli.' He didn't choose to do that," Taylor explains. Though he's not really sure The Point is 100 percent for kids, either. "It's very, very much equally for the adults. Maybe stoned adults. It's for children or the stoned."
Taylor, however, is clearly part of a new breed of children's musicians, unrestrained by the past and more interested in creating a complete piece of art than simply making funny noises of invented characters with absurd names. Now, to be clear, Gustafer Yellowgold has both a weird name and some funny noises, but those things aren't really what defines it. Instead, it's in the delivery where Taylor's talent really shines. Gustafer Yellowgold may have the same deadpan quality you'd find in The Point, but because Taylor has been performing songs from the character's biography since 2005, he's figured out how to both keep the Gustafer story feeling like one of a rock star, but to tell a children's story at the same time.
"When I first performed Gustafer stuff, the way I would talk to an audience would be like a stand-up comic. Just make it more conversational. But this was the daunting task of writing a whole audiobook," Taylor says, outlining his fears in creating the epic four-hour piece. "But, when I looked at it, I'm like, okay, I'm not writing a book, I'm writing a story and I'm writing my voiceover script. So, I don't have to worry about commas and things like that. I knew it wasn't going to be in print and that way I kind of gave myself a little bit of freedom."
Unraveling the entire story and mythology of Gustafer Yellowgold isn't something that is supposed to be quickly understood, but it is something that can be quickly enjoyed. Morgan Taylor's style is funny, inventive, and new. And even though this character has been around for more than a decade, for many of us (particularly those with young, musically-inclined kids) Gustafer will feel like a revelation.
It's the kind of music you didn't know you needed in your kid's life until you heard it for yourself. And best of all, the story is pretty cool, too. If you need a break from grating Disney voices or barnyard animals, you can't do much better than this.
I'm From the Sun — The Gustafer Yellowgold Story is available now on Audible.com.
This article was originally published on