This MMA Fighter Just Dominated the First Professional Pillow Fighting Match, Ever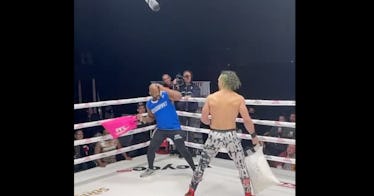 The first-ever Pillow Fighting Championship took place outside of Miami over the weekend, as several UFC fighters entered the ring in order to determine once and for all who is the ultimate pillow warrior.
Marcus Brimage and Markus Perez were considered favorites heading into the tournament, as they have previous UFC experience (Brimage was Conor McGregor's debut UFC opponent). But neither walked away with $5,000 grand prize, as MMA fighter Hauley Tillman proved his pillow prowess to earn the championship belt. On the women's side, UFC fighter Istela Nunes was able to take the top prize and become the inaugural PFC Women's Champion.
Each fight featured three two-minute rounds where the fighters duke it out with PFC-approved pillows. Since knockouts are far less likely to occur with pillows as weapons, the winner is decided by who can inflict the most damage over the course of the fight.
NPR's Tamara Keith noted that pillow fighting "has all the strategy and intensity of boxing or MMA with more satisfying impacts and less gruesome injuries," which could make it a compelling alternative for those who can't quite stomach the typical brutality of other combat sports. PFC CEO Steve Williams agreed, saying it's a part of the growing sport's appeal.
"The fighters don't like to get hurt, and there's a lot of people who don't want to see the blood," Williams explains. "They want to see good competition, they just don't want to see the violence."
This all begs the question of whether pillow fighting could finally be getting the recognition it deserves as one of the more intense combat sports in existence. For centuries, siblings and friends at sleepovers have battled to see who is the champion pillow fighter and now, it's making the leap to legitimacy. Could the Olympics be next? Only time will tell.
Still interested in pillow-fighting? Check out Fatherly's new book, Fatherhood, in which we actually predicted that pillow-fighting would become a professional sport!
This article was originally published on