Forget Tom Hanks. This Is the Mister Rogers Documentary You're Looking For
Catch this documentary ASAP before it leaves streaming.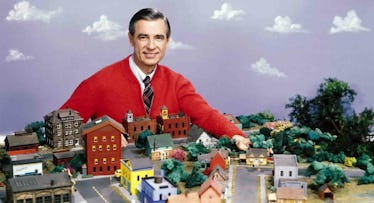 The world was a far better place with Fred Rogers in it. Thanks to Rogers and his children's program, Mister Rogers' Neighborhood, millions of kids learned about life, loss, sharing, tolerance, jobs, divorce, friendship, music, war and so much more from the friendly, soft-spoken man in the cardigan sweater and comfortable sneakers. And they did so for decades, from 1968 to 2001.
It's hard to believe that Rogers has been gone for nearly 20 years; he died in February 2003, just a few weeks shy of his 75th birthday. Tom Hanks played him in A Beautiful Day in the Neighborhood, but that 2019 drama, while quite good, actually focused more on a cynical journalist (Matthew Rhys) interviewing (and being won over by) Rogers than on Rogers himself. Far more enlightening was Won't You Be My Neighbor? Directed by Morgan Neville and released in 2018, the documentary explores Rogers' life, career, and legacy. It's streaming now on HBO Max but leaving on April 30. Won't You Be My Neighbor? presents Rogers as a good, religious man – who was heavy as a child and dealt with some bullying — trying to do some good in the world. Neville had access to archival footage that takes viewers behind the scenes of Mister Rogers' Neighborhood. It's wonderful – especially for someone like me who, as a kid, loved the show for as long as it was cool to love the show – to once again see and hear Trolley, as well as all the puppets, from King Friday XIII and Daniel Striped Tiger to Prince Tuesday and Ana Platypus, plus the many humans with whom Mr. Rogers interacted, including Mr. McFeely ("Speedy delivery!).It's even more exciting to see and hear how the sausage was made, both in terms of making the show on a day-to-day basis and adapting the program to meet the times ("What does assassination mean?"). Particularly touching are scenes capturing the imminent end of Mister Rogers' Neighborhood in late 2000, as there are final, emotional goodbyes to sets, puppets, people, etc., as well an amusing practical joke. Cameras were also on hand almost a year later when Rogers returned briefly after September 11 to film a public service announcement. He senses the importance of the moment and rises to it, but not without some very human flashes of self-doubt. Among those commenting about the show and Rogers are his wife, Joanne (who died in 2021 at 92 years old after years of burnishing Fred's legacy), his sons and sister, François Scarborough Clemmons (Officer Clemmons), David Newell (who played Mr. McFeely and worked in the show's PR department), and others. Neville doesn't dwell on it, but he at least acknowledges that Rogers had his detractors. Those critics despised Rogers' message of inclusion and disagreed entirely with his oft-stated belief that every child is special, arguing instead that one must work hard and earn the right to be thought of as special. Someone even calls him "evil," and it's pointed out that screaming protestors — including children — showed up at his funeral. Neville also devotes a few minutes to the many parodies of Mr. Rogers, most of which – including Eddie Murphy's famous Saturday Night Live sketches — Rogers found amusing. Try telling the kids and adults whom Rogers meets in scenes throughout the documentary that he's evil. Those kids in Harlem look at him as if he's a superhero, and that college graduate whom he met after a commencement speech can't thank him enough. All in all, Won't You Be My Neighbor? is 94 minutes spent in the company of an honorable man who made a difference in the world. He was a gentle man and a gentleman. Late in the documentary, Rogers explains that the phrase "Won't you be my neighbor?" is an invitation. As he puts it, "I think everybody longs to be loved and longs to know that he or she is lovable. And, consequently, the greatest thing that we can do is to help somebody know that they're loved and capable of loving." Won't You Be My Neighbor? is streaming on HBO Max until April 30. Listen to Fatherly's podcast on the life of Fred Rogers — Finding Fred — right here.