Why 'Mission: Impossible — Fallout' Is the Best Installment in the Series
There's difference between best action movie and best action scenes.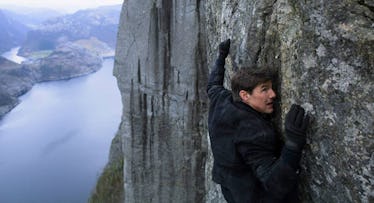 Mission: Impossible - Fallout
Mission: Impossible — Fallout is not the best action movie of all time, but it comes damn close. Paradoxically, the reason why people think it's the greatest action movie of all time is that it has some of the best action scenes in any action movie ever. Just because a film has the best action scenes, doesn't mean those scenes add up to the best film in the genre. So, thankfully, the newest Mission: Impossible film really does meet the hype (even if some reviewers have gotten a bit hyperbolic suggesting it's the best action movie ever made) it's not the greatest thing ever, despite being pretty great. here's why.
It's rare for a franchise to reach its high-point six movies in but, against all odds, Fallout proves that Mission: Impossible is as fresh as it's ever been, raising the stakes both for the franchise and the action genre as a whole. It has been 22 years since Ethan Hunt first burst into theaters with his trademark blend of high stakes espionage and heart-stopping action. And while most series would have grown stale long ago and been forgotten, Mission: Impossible is arguably bigger than it's ever been. Riding a wave of critical acclaim and audience excitement, Fallout is in a perfect position become one of the biggest and most beloved films of the year.
Most summer blockbusters ignore things like story and character in favor of big stunts but Mission: Impossible continues to deliver movies that are enjoyable on every conceivable level. The plot, revolving around Hunt and his motley crew tracking down some nuclear weapons that have ended up in the wrong hands, is fun and features just the right amount of twists and turns without becoming too confusing. The cast continues to get better, anchored by living legend Tom Cruise, who remains as charming as ever, even while he is jumping out of an airplane or getting hit by a car while riding a motorcycle.
But unsurprisingly, the biggest reason Fallout is the best action movie of the year is because of the action. As a genre, action movies have strayed further and further from reality thanks to special effects and CGI, to the point where sometimes entire fight sequences and chase scenes will basically just be motion capture, green screen, and good old fashion Hollywood magic. These movies are undoubtedly impressive but they lack the immediacy that can be found in a film like Fallout, that relies mostly on practical effects to get its biggest sequences onscreen.
Since the first film hit theaters more than two decades ago, Mission: Impossible has been known for its insane but entirely real action set pieces and fans of the series will be happy to know that Fallout is packed with the best action sequences in the entire franchise. The movie has everything action junkies are clamoring for, including a skydiving scene, an extended epic chase scene around Paris, and a dogfight between two helicopters that has to be seen to be believed.
But the highlight of the action is undoubtedly an epic fight scene that takes place entirely in a bathroom. The choreography is next-level and every punch thrown feels completely real, to the point where you have to remind yourself that these guys are not actually beating the shit out of each other. But despite the raw intensity, it's also incredibly fun to watch, features a number of big laughs, and serves as a perfect encapsulation of everything great about Mission: Impossible.
None of this is to say that Fallout is a perfect movie. At two hours and 27 minutes, Fallout, like most blockbusters, feels about 30 minutes longer than it needs to be. A few of the action sequences are also a bit over the top, especially during the film's climax, which drags on just a hair longer than it probably should and briefly walks on the wrong side of believability.
Long story short, it's a great action film but is unlikely to be remembered as one of the greatest action movies ever made. In fact, many might argue it's not even the best film in its own franchise, as a strong case could certainly be made for Ghost Protocol. Still, any nitpicks pale in comparison to how much fun you will have watching Fallout, as it is a nonstop spectacle that action fans of all ages will love. And while Fallout is unlikely to replace Die Hard or Raiders of the Lost Ark on the Mount Rushmore of action movies, it's already clearly established itself as the top action film of 2018.
This article was originally published on