In a Turbulent Time, British Women Look to Sexy Dads
Dads are taking a front row seat in British erotic fiction.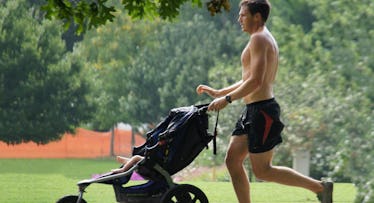 <a href="https://www.flickr.com/photos/hotlantavoyeur/14608439490/" target="_blank">flickr / Hotlanta Voyeur <a/>
Fifty Shades of Grey was a massive hit with women all around the world (and spiked sales of riding crops) thanks to its terribly written exploration bondage, work romance, and wild, uninhibited sexual activity. Since then, hundreds of books have tried — and failed — to imitate EL James' particular brand of butt-slappy erotica. But British publishing house Mills & Boon may have found a new formula. Editors noticed that the best-performing steamy novels had one thing in common: a good old-fashioned DILF. That's right, fictional tales of the life and love of hot, single dads were flying off the shelves in the UK, and so other publishing companies began to follow suit. Now, shelves are loaded with tales of lusty affairs with hot dads.
Romance novels have always performed particularly well in Britain, but why are readers now flocking to DILFs? Most people believe it has to do with the emotional maturity and parenting skills that come with these types of characters, as opposed to a 20-something who is ill-equipped for those sorts of things. Fathers in this genre of fiction had long been innocent, inconsequential background characters, but now they're being thrust into the spotlight to do some serious thrusting.
Recent releases by Mills & Boon (in honor of Father's Day, of course) include The Daddy Project, Saved by the Single Dad, and Falling for the Single Dad, the latter of which tells the story of a sexy, single dad who returns from Afghanistan to become a plastic surgeon and, naturally, gets into sexy situations. Each one of these books features a photo of a sexy, but rugged, man on the cover. Far different than the Fabios of yore, the men are less fantastical —although they don't really have natural dadbod. But, hey, it's fantasy.
This article was originally published on