Mighty Mighty Bosstones Break Up, Shocking Everyone Who Thought They Were Still a Band
The impression that we got was...that this already happened.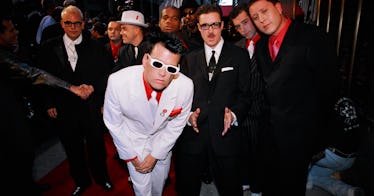 Jeff Kravitz / FilmMagic / Getty Images
We have some sad news for anyone in their early 40s who were obsessed with ska bands when they were a moody teenager. The band Mighty Mighty Bosstones have broken up – recently, like yesterday, and not a decade ago, which is the impression that we probably all got.
According to Rolling Stone, the band made an official announcement on their Facebook page, letting fans know they were no more. "After decades of brotherhood, touring the world and making great records together, we have decided to no longer continue on as a band," the Mighty Mighty Bosstones' statement said.
"Above all, we want to express our sincere gratitude to every single one of you who have supported us. We could not have done any of it without you."
The band was scheduled to play at Slam Dunk Festival this upcoming June, according to Rolling Stone, but it doesn't sound like that's going to happen anymore. As for what prompted the breakup of a group who have apparently been working together for several decades, there's speculation that it has to do with COVID-19 vaccines.
The "split comes just days after it was revealed that a song that promoted Robert F. Kennedy's anti-vax rally in Washington, D.C. was apparently produced by Bosstones frontman Dicky Barrett — or at least someone with the same name — according to the song's credits," the publication reports.
The band hasn't released any other details on why they broke up or why after all this time together. The group had a temporary breakup back in 2003, according to AV Club. They got back together a few years later, and continued to release music – their latest in May 2020.
This article was originally published on