Michael Keaton Says the Best Batman Is Michael Keaton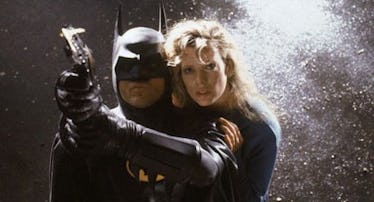 Sunset Boulevard/Corbis Historical/Getty Images
Michael Keaton is either batshit crazy or batting a thousand. And that's because, Wednesday night on Jimmy Kimmel Live!, the actor replied "Me!" when asked by Kimmel whom he considers the best out of all the Batmans, or Batmen. Keaton, of course, portrayed Bruce Wayne/Batman in Tim Burton's Batman and Batman Returns, while others who have played or voiced the Caped Crusader on television or in movies include Adam West, Will Friedle, Christian Bale, Will Arnett, George Clooney, Jeremy Sisto, Ben Affleck, Bruce Greenwood, Val Kilmer, Robert Lowery, Olan Soule, and Robert Pattinson, who will don the iconic cowl for the upcoming film, The Batman. And let's not forget Jimmy Kimmel himself, who voiced Batman for the 2018 animated feature, Teen Titans Go! to the Movies.
Keaton was on Kimmel to promote his current project, the Netflix drama, The Trial of the Chicago 7, when the subject of Batman came up. Keaton is rumored to be reprising his iteration of Batman in The Flash, which might also feature Ben Affleck, as Barry Allen/The Flash (Ezra Miller) encounters different versions of Batman. "I can't confirm anything," Keaton said, later adding, "We're having discussions, as they say. We're talking about it. We'll see if it happens." Then, on an amusing note, Keaton joked that he occasionally slips into his Batsuit. "When things around here get a little nervous-making," he revealed, "I just put the suit on and, boy, things straighten the fuck up."And if The Flash doesn't pan out, we guess Keaton will just be a bruised Wayne.
Here's the clip from Kimmel.
This article was originally published on