New 'Flash' Leak Reveals Michael Keaton's Batman
Keaton's Bruce Wayne is back, baby.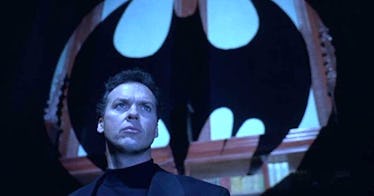 Credit: Warner Bros
You wanna get nuts? Let's get nuts!
A newly leaked photo from the set of the upcoming WB/DC movie The Flash has unveiled a classic Batman coiffure. We've known for a while that Michael Keaton was returning to the big screen as Bruce Wayne/Batman for the first time since 1992's Batman Returns. Although The Flash exists in the continuity of the other DCEU movies (Man of Steel, Justice League, Aquaman, WW84, et al.) the new film will apparently break-open a DC comics multiverse, allowing multiple versions of Batman to appear in the same film. Although the movies haven't done this yet, there's a huge precedent for this with the CW's Crisis on Infinite Earths in late 2019, early 2020.
Take a breath. Here's what's going on.
During a large superhero crossover TV event (Crisis on Infinite Earths) there were various Supermen (including Brandon Routh and Tom Welling) and a meeting between two Flashes — TV's Grant Gustin and the big-screen Flash, Ezra Miller. Crisis on Infinite Earths also featured a cameo from a character called Alexander Knox (Robert Wuhl) who first appeared in the 1989 Micahel Keaton Batman.
So, who cares?
Well, the DC TV shows have already demonstrated dimensional crossovers between different versions of their popular characters. If movie Flash can meet TV Flash, then it follows similar multiverse breaks can let different Batmans (Batmen?) hang out with a Flash from a different reality.
A recent photo of Michael Keaton filming The Flash confirms that we're not going back in time. Keaton is playing Bruce Wayne, just a little bit older. This has led some fans to speculate that Keaton's Bats now exists in a future, not unlike the world of Batman Beyond, an animated series that took place in a future Gotham in which Bruce operated from the cave, assisting a younger, new Batman on sci-fi adventures.
If that's the case, then The Flash will be a massive confluence of like a billion different DC comic book worlds at the same time. If you thought the Marvel multiverse was getting complicated, wait until you get a load of DC.
The Flash is expected to hit theaters on November 4, 2022.
The classic 1989 Batman is streaming on HBO Max, along with Batman Returns, Batman: The Animated Series, and Batman Beyond.