We Need to Talk About Michael Keaton Playing Batman In 2022
In the next round of DC superhero movies, Michael Keaton will return to a role that made him famous. Sort of.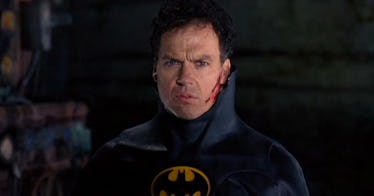 Warner Bros.
You wanna get nuts? Let's get nuts! It appears that although Michael Keaton is returning to the world of DC Comics superhero movies, it's not exactly what you might think. Although the internet was set ablaze by some jokers who claimed Keaton was about to star in a series of new Batman films, it turns out he's only back for one movie, the 2022 film The Flash. Here's what's going on, and why it might be reasonable to assume that Michael Keaton is not playing Batman exactly, but perhaps, only his alter-ego, Bruce Wayne.
Just the Bat-Facts
In 2022, Michael Keaton will indeed reprise his role as Bruce Wayne in the DCEU movie The Flash, which will apparently feature a bunch of zany multi-verse action. The implication is that Keaton will, in theory, crossover from the continuity of his '80s and '90s films, Batman and Batman Returns. That said, it's also possible that Keaton will be playing another version of Bruce Wayne who is simply older, and exists in a universe different than the one Ben Affleck's Batman shares with Ezra Miller's Flash. If you've already got a headache thinking about alternate Batmen, here's the simple version: The Flash will feature multiple versions of various DC characters in the same movie, meaning, Keaton's Batman/Bruce Wayne could appear in The Flash alongside another version of Batman.
This has nothing to do with Robert Pattinson
That said, the much-hyped Robert Pattinson movie, The Batman, is not connected to The Flash movie. Keaton will not crossover to that movie, and — as of this writing – Pattinson will not appear in The Flash.
Keaton is not coming back for multiple new DC movies (yet)
Recently, a report from the New York Times got people fired-up into believing that Keaton was suddenly going to get a whole new series of Batman movies like it's 1989 all over again. This is false. Journalist Brooks Barnes jumped on Twitter to point out that as far as we know, Keaton is coming back for just one new DC movie as Batman/Bruce Wayne, and that movie is The Flash in 2022.
Is Keaton rebooting an old Batman cartoon in live-action?
Some fans think that because of Keaton's age right now (69 years young!) that he'll only be playing a retired Bruce Wayne, but not, explicitly Batman. If this were true, that arrangement would line-up neatly with the old cartoon Batman Beyond (1999-2001). If your memory is hazy, Batman Beyond was a low-key sequel to Batman: The Animated Series and took place in a cyberpunk "future" Gotham City in which Bruce Wayne recruits a younger guy named Terry McGinnis to become the new caped-crusader (who usually doesn't wear a cape.) Batman Beyond is weird AF in that glorious way everything was that was made in 1999. It's not the greatest Batman series ever (that would be the actual Animated Series that preceded it) but it's also pretty fun to rewatch.
There's no reason to think that Keaton will exist in a Batman Beyond-esque universe in 2022's The Flash, but then again, he might?
In the meantime, you can watch Batman: The Animated Series and Batman Beyond on HBO Max right here.
This article was originally published on