Melissa Mccarthy Will Co-star with Jim Henson Puppets in New R-rated Comedy
Melissa McCarthy, the queen of R-rated comedies, will team with The Jim Henson Company for a raunchy puppet murder mystery comedy.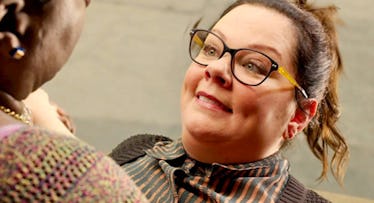 Melissa McCarthy is no stranger to getting her hands dirty. She's busted ghosts, punched Jason Statham in the face, taken a dump in the sink, and earned the ire of the White House. But now she's going to do it with a whole new crew: puppets. In the upcoming comedy, The Happytime Murders, McCarthy will star alongside a bunch of foam characters from the Henson Company. Even better? The comedy, written and directed by Brian Henson, the son of Jim, will be the the company's first-ever r-rated feature.
In the film, the part-time Sean Spicer impersonator will play a detective who, along with another puppet detective, must figure out who is killing the former cast of an '80s children's puppet show, The Happytime Gang. The duo dive deep into a seedy world of forgotten puppets. Murder, mayhem, and a lot of spilled foam likely ensue. For all accounts, it sounds like a puppet version of Who Framed Roger Rabbit?
McCarthy seems perfect for the role, which was originally pitched to Jamie Fox. "When a really good script combines puppet strippers, Los Angeles' underbelly, and comedy, it's like my fever dream has finally come true," said McCarthy in a press release. Film production is slated to begin this August. Here's hoping it features the line "Forget it, detective, it's Happytime."
This article was originally published on