Medieval Madness Returns For 'Disenchantment' Season 3 on Netflix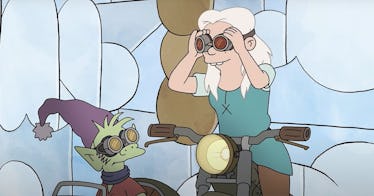 Bean, Luci, Elfo, King Zøg, Queen Oona, King Zøg and the rest of the exotic characters that populate the kingdom of Dreamland are back in season three of Disenchantment, which dropped January 15 on Netflix. The series, from The Simpsons and Futurama creator Matt Groening, is a most unusual concoction: an animated medieval fantasy comedy adventure.
Abbi Jacobson of Broad City voices the central character, Bean, a free-spirited and hard-drinking princess who keeps the company of a happy elf named Elfo (voiced by actor-writer and Oscar winner Nat Faxon) and her own personal demon, Luci (voiced by Eric Andre, who also does the talking for Pendergast, Dreamland's head knight ), who loves candy. The great John DiMaggio – the man behind Bender on Futurama, General Grievous on Star Wars: Clone Wars, and Marcus Fenix in Gears of War, among countless other credits – voices Bean's father, King Zog. Futurama veterans Billy West and Maurice LaMarche both voice several characters.
Just as Netflix ordered 20 first-season episodes that they split into two parts, the streamer did likewise when they renewed Disenchantment in 2018, ordering 20 episodes, with 10 available now and 10 likely to debut later this year or early in 2022. So, whether we're actually in season 2 or 3 of Disenchantment, more is on the way.