The 5 Best Meat Loaf Songs to Blast and Sing With Your Kids
A little bit of Broadway and a whole lot of guitars makes for a good time with the kids.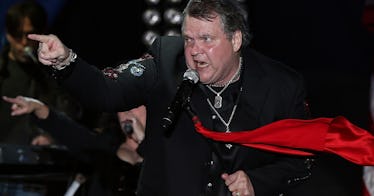 Justin Sullivan/Getty Images
Meat Loaf, the rock opera-style singer who gave us a lot of feelings through his music, died at the age of 74. The singer had one of the best-selling albums of all time. Unfortunately, the rock community has lost an outstanding talent. Meat Loaf, whose birth name was Marvin Lee Aday died, according to a statement on his verified Facebook page.
"Our hearts are broken to announce that the incomparable Meat Loaf passed away tonight surrounded by his wife Deborah, daughters Pearl and Amanda and close friends," the statement read. "We know how much he meant to so many of you and we truly appreciate all of the love and support as we move through this time of grief in losing such an inspiring artist and beautiful man."
Meat Loaf was a staple in the home for those who grew up in the 80s and 90s. He was one of the artists on repeat on our parents' playlists, and many of the songs still stand out today. If you love his music, and want to keep the joy alive, here are five of the best Meat Loaf songs to blast and sing with your kids. Each has a lot of theatrics, fun lyrics, and a lot of opportunities for an air guitar or two.
1. "Hot Patootie – Bless My Soul"
The Rocky Horror ShowThe Rocky Horror Show,
2. "I'd Do Anything For Love"
Bat Out of Hell II: Back into Hell
3. "Two Out of Three Ain't Bad"
4. "Bat Out of Hell"
Bat Out of Hell
5. "Paradise by the Dashboard Light"