Marvel Confirms a F*ck Ton of Tom Holland Spider-Man Movies Post-2021
According to a producer, 'Far From Home' will not be Holland's final Spider-Man film.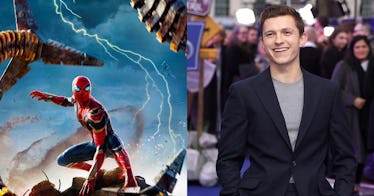 Marvel;Getty
Despite Tom Holland saying that it might be "time for me to move on" following the upcoming Spider-Man: No Way Home, Marvel Studios has no plans for the actor to exit the MCU anytime soon.
Producer Amy Pascal told Fandango that not only is Marvel going to make another Spider-Man movie with Holland as the friendly neighborhood web-slinger, the current strategy is to make an entirely new trilogy.
"This is not the last movie that we are going to make with Marvel – [this is not] the last Spider-Man movie," Pascal explained. "We are getting ready to make the next Spider-Man movie with Tom Holland and Marvel, it just isn't part of… we're thinking of this as three films, and now we're going to go onto the next three. This is not the last of our MCU movies."
This is an obvious movie for Marvel, as Holland's portrayal of Peter Parker has been loved by fans and critics since his introduction in 2016's Captain America: Civil War. And with the likes of Steve Rogers' Captain America and Iron Man no longer around, along with the tragic death of Chadwick Bozeman, Holland seems like the natural choice to take on a more prominent role in the Avengers moving forward.
Of course, questions remain, including Holland's own concern about overstaying his welcome in the role of Spider-Man, telling GQ that "if I'm playing Spider-Man after I'm 30, I've done something wrong." But Marvel has excelled at planning out the exit of its major stars and it would not be surprising if the next trilogy of Spidey films involves Parker handing off the mantle to a protege, perhaps even Miles Morales?
But this is all just speculation for now, as we don't even know what happens in No Way Home. Still, it's a relief to know that Holland isn't done playing Peter Parker.