Thor 4! Spider-Man 3! Black Panther 2! Here's the New Marvel Movie Schedule Through 2023
Thor 4! Spider-Man 3! Black Panther 2! It's all happening.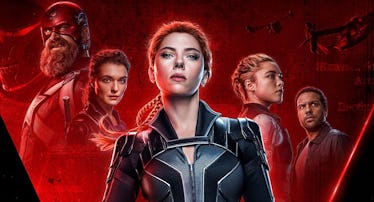 Credit: Disney/Marvel
For better or for worse, the Marvel Cinematic Universe has redefined why people go to a movie theater to see anything. No matter what Martin Scorsese says (we love you Marty) the post-Avengers world has created a new kind of communal movie-viewing experience. Watching Captain America pick up Thor's hammer in Endgame is fine on your laptop or phone screen, but if you saw it in a packed theater then you remember the difference.
The Marvel movies might not always be high-art, or even very good, but these movies bring people together in a way that even the new TV shows can't. Assuming the post-COVID world actually happens, Marvel Studios is betting that folks want to go back to movie theaters and cheer for the Avengers the way we used to before 2020. In a new ad, Marvel has released its newly revised schedule for the "Phase 4" movies in the MCU. Here it is!
July 9, 2021: Black Widow (Also coming to Disney+ premium access.)
September 3, 2021: Shang-Chi and the Legend of the Ten Rings
November 5, 2021: Eternals
December 17, 2021: Spider-Man: No Way Home
March 25, 2022: Doctor Strange in the Multiverse of Madness
May 6, 2022: Thor: Love and Thunder
July 8, 2022: Black Panther: Wakanda Forever
November 11, 2022: The Marvels (Captain Marvel 2)
February 17, 2023: Ant-Man and the Wasp: Quantumania
May 5, 2023: Guardians of the Galaxy: Vol. 3
The ad ends with the phrase "see you at the movies," which makes it seem like if any property is going to drive a post-COVID rush back into theaters, it's Marvel. ALSO, in case you thought that giant "4" was just there to talk about Marvel "Phase 4" (like I did) apparently, it was to signal that yes, another reboot of Fantastic Four is coming!
And, just so we're clear there are four MCU movies coming out this year alone, and three of those movies — Shang-Chi, Eternals, and Spider-Man: No Way Home — are all going to be in theaters exclusively. (Notably absent from this list is "Avengers 5" and the new Captain America movie that is rumored to be starring Anthony Mackie.)
Will it work? Will we all feel ready to start going back to the theaters for the next phase of Marvel movies? The Avengers may have taken out Thanos (twice!) but can they fight the emerging post-COVID world? Time will tell, but if the optimism of the MCU is an actual bellwether for the future of moviegoing, then maybe this rush of optimism is a sign of good things to come.
This article was originally published on