6 Fab Facts We Learned From 'McCartney 3, 2, 1'
The new Hulu docuseries proves we still can't get enough of Paul and the Beatles.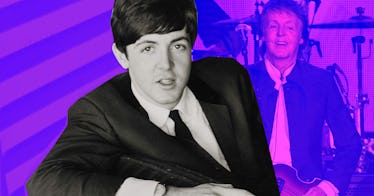 GETTY
Paul McCartney turned 79 years old in June. The Beatles officially recorded for just eight years, releasing more than 300 songs, and broke up more than 50 years ago. John Lennon has been gone for 40-plus years, George Harrison almost 20. Countless books have been written about the Beatles, its four members, and their timeless music. There's nothing more to say, right? Well, no. Peter Jackson is in the midst of putting the finishing touches on Get Back, a Disney+ documentary series that will likely rewrite the history of Let It Be, showing the group as a still-cohesive unit that laughed and had fun and remained creative to the end, versus the Let It Be film that presented the doom and gloom of the sessions. And now there's McCartney 3, 2, 1, a six-part Hulu docuseries that debuted this past weekend and features McCartney recounting memories of his days as a Beatles, the leader of Wings, and as a solo act. He does so in an intimate setting as he and mega-producer Rick Rubin spend most of the doc's running time standing next to a soundboard, talking and occasionally sliding faders up and down in order to isolate certain vocals, bass lines, guitar solos, and drum riffs. And it's all filmed in glorious black and white. Here are six takeaways from McCartney 3, 2, 1.
Maybe He's AmazedMcCartney is no fool on the hill. He knows that he's helped create some of the most timeless music ever produced. What's fun is to watch him listen to much of that music and be as astonished by it. He tells the oft-told story of "Yesterday," and how it came to him wholly formed as if in a vision. Better still, Rubin plays "And I Love Her," which is two minutes and 32 seconds of pop perfection. "It was good, you know?" McCartney says, smiling. Of the song "This Boy," McCartney notes, "You can hear the excitement of us just making stuff up." After the Beatles decided to quit touring in 1966, they focused on expanding their experiences in the recording studio. And they threw everything into the mix. Robert Moog's massive new synthesizer was at Abbey Road Studios. Boom, it got used on a song. Orchestras? Check. Sound effects? Bring them on. Of course, "Sgt. Pepper's Lonely Hearts Club Band" put that all to use. "Like being professors in a laboratory," McCartney observes, "discovering all these little things."Humble PieNo doubt, McCartney has an ego. What star of his magnitude doesn't? During the conversations with Rubin, he's quick to point out that he came up with this lyric or played the drums on that song or plunked the piano for this tune. He explains, "We thought we were different. We knew we were different." But, for the most part, McCartney shares the wealth. He offers anecdotes about John Lennon, George Harrison, and Ringo Starr (including his amusing Yogi Berra-esque utterances that led to "A Hard Day's Night" or "Tomorrow Never Knows"), as well as Brian Epstein, the group's manager, and George Martin, their longtime producer, who also produced "Live and Let Die," plus Linda McCartney, Eric Clapton, Billy Preston, Little Richard, Wings guitarist Denny Laine, etc. Rubin plays "Maxwell's Silver Hammer." It goes unsaid that Lennon, Harrison, and Starr all despised the song, or that Lennon actually didn't perform on it at all. Still, McCartney makes mention of Mal Evans, the band's road manager, and personal assistant. It was Evans who banged the anvil on the song, giving it its unique percussive sound. McCartney also makes sure to name-check David Mason, the session musician who performed piccolo trumpet on "Penny Lane" (among other songs) And, not surprisingly, McCartney comes across as positive and upbeat throughout, a notion encapsulated in this simple comment: "There's always that next little song you can be thinking about or writing." Those next little songs often went to number one.Quick RickRick Rubin ranks as one of the greatest producers of our time, having worked with everyone from Run-DMC, Beastie Boys, Joan Jett, Tom Petty, and Johnny Cash to Shakira, Jay-Z, Lady Gaga, Ed Sheeran, and Imagine Dragons. He knows music inside and out. Here, for obvious reasons and likely in large part due to the editing of the documentary, McCartney does most of the talking, leaving Rubin – a big, burly guy who goes barefoot, sports a tee-shirt and shorts, and rocks a massive beard — to come across like a super-well-informed, extremely well-prepared mega-fan who says various forms of "Beautiful," "Great," "Amazing," and "It's so good," in reaction to McCartney's comments or the playback of songs, notes, etc. The man is a genius and, speaking personally here, I'd have preferred to see significantly more of Rubin's side of his interactions and conversation with McCartney. Dear JohnLennon and McCartney changed the world with their music, and their personal relationship was fraught with love, frustration, camaraderie, jealousy, respect, estrangement and rapprochement. No one knows what might have come to pass had Lennon not been murdered in 1980. Here, in McCartney 3, 2, 1, it's the love and respect that shine through. McCartney recounts how they met, worked together, contributed to each other's songs. Rubin reads aloud a lovely quote about McCartney's bass-playing skills, and McCartney is deeply and understandably pleased to hear that Lennon made the comments. Only… Rubin excerpted and paraphrased Lennon's words. The remarks derived from Lennon's 1980 interview with Playboy, but Rubin conveniently omits Lennon's assertion within those same quotes that McCartney was an "egomaniac." McCartney relates a telling story about how Lennon factors into him considering "Here, There, and Everywhere" his favorite of his songs versus "Yesterday," the more obvious choice. "I remember him saying 'Oh, I like this one,'" McCartney recalls, smiling. "And you know what? That was enough. That was great praise coming from John."Tutti-Frutti and Ooby DoobyAmong the best and most joyous stories, McCartney spins are ones describing how other musicians influenced the Beatles. John Cage, for example, inspired "A Day in the Life." McCartney helped Lennon reconfigured "Come Together" after telling his Beatles mate that the song waaay too closely echoed Chuck Berry's "You Can't Catch Me." Even with McCartney's input, Lennon still went with, "Here come ol' flat-top/He come groovin' up slowly," which is a virtual lift of Berry's lyric, "Here come a flat-top/He was movin' up with me." McCartney speaks of learning from Little Richard. And best of all, while touring with Roy Orbison, McCartney came to understand the importance of concluding a song, especially one performed live. As McCartney puts it, "Roy ended songs in a big way — and the audience couldn't do anything but clap."Let It B
If we were to grade McCartney 3, 2, 1, we'd give it a solid B, maybe even B+. It's good stuff. It's fab to watch and to listen to, both the music (naturally) and the anecdotes. People who may not have seen the gazillion previous Beatles/McCartney documentaries or read the many articles and books or listened to endless podcasts will surely take away far more from these six episodes than hardcore fans. For the latter, there's frankly not a ton that's brand-new. And this doc, interesting as it is, floats a bit aimlessly. Is it about McCartney? The Beatles? Wings? Why was this song dissected but not that one? What got cut? Apparently, a LOT, as McCartney and Rubin spent 15 hours together over the course of two days. There's not much order to any of it, and while the nonlinear approach is unique, even daring, it doesn't work. Also, as noted, the proceedings definitely need more of Rubin the producer. He could have broken songs down further, pushed McCartney harder here and there. Most problematic of all, McCartney 3, 2, 1 doesn't so much as end rather than simply stop. Still, it's three hours spent revisiting some of the greatest music ever produced (and, wow, it still sounds great) man, and hearing straight from the man who serves as the keeper of the Beatles flame (and clearly relishes that role; try not to smile when he happily mouths the lyrics during the playbacks of several songs). That, in the end, is time well spent.
McCartney 3, 2, 1 is streaming now on Hulu.
This article was originally published on