Alright Alright Alright! Matthew McConaughey's New Audiobook Is Freaking Great
'Greenlights' is your new happy place.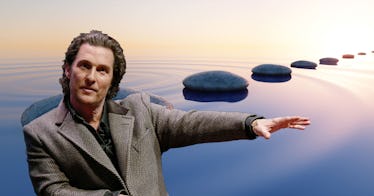 Reading books, you know, actual books with pages is a fantastic way to relax. Personally, when people say they don't have time to read, I'm always a little confused as to why. But, when you're non-committal on reading a giant non-fiction book by a famous person, I actually kind of get it. This is why I always prefer to listen to celebrities read their memoirs to me, rather than read those books myself. And nobody reads things better than Matthew McConaughey. Here's why listening to McConaughey's book Greenlights on audio is a great way to calm yourself down and learn a thing or two.
Let's face it, if McConaughey was reading a textbook on how the hot water heater works in your house, it would be a great listen. Luckily, his new book Greenlights isn't a textbook, nor is it a "traditional memoir." Although McConaughey quotes from his personal journals (dude keeps a journal: GOALS) he calls the book an "approach book."
What the hell does he mean by that? Well, in the introduction, McConaughey tells us, "I am here to share stories, insights, and philosophies that can be objectively understood, and if you choose, subjectively applied."
Essentially, Greenlights is sort of like an accidental self-help book, in which Matthew McConaughey becomes all the wise and profound characters from his films, but it's just him talking to you about life. It's not the kind of book that will keep you up late at night, turning the pages, which is why it's totally perfect in audiobook format. Listening to McConaughey's comforting drawl oddly draws you closer to his life lessons and philosophies. For some, reading McConaughey's insights just on the page might come across a little corny, but when he's actually talking to you, it feels right. The context of it being him helps in both mediums, but in the audiobook, it's excellent. It's also surprisingly calming. McConaughey says this isn't an "advice book," but listening to him read it is zen as hell.
Are you in the middle of a bunch of chores, or heading back to the gym? What about mowing the lawn? In all of those cases, Greenlights is a great way to carry your through. Listening to Matthew McConaughey's life lessons and hilarious stories is the perfect way to make all of those dad tasks way more manageable. At the end of the day, you'll feel a little more centered, and probably more confident, too. Maybe you'll even develop your own version of the McConaughey swagger. Just don't start beating your chest in your front yard. Yet.
You can sign-up for a free trial of Audible Premium Plus right there.
From June 1st – June 30th, Audible Premium Plus will be available to customers at 53 percent off – only $6.95 a month for the first four months. Here's how to get the deal.
Every product on Fatherly is independently selected by our editors, writers, and experts. If you click a link on our site and buy something, we may earn an affiliate commission.
This article was originally published on