Matt Damon Campaigned to Be America's Dad on SNL. Done.
He's getting older and more dad-like, but Matt Damon's appearance this weekend on SNL helped cement the argument that he's ready to be America's kind-of-embarrassing Dad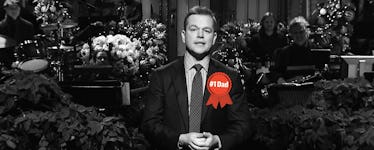 Saturday Night Live
Matt Damon came out strong on the season finale of Saturday Night Live this weekend, putting his fatherhood front and center in his self-deprecating, largely joke-free monologue. He began by noting that when he was a kid his dad, who died last year, let him stay up late to watch the sketch show. "I laughed every time my dad laughed," Damon said before noting that he's letting his youngest daughter stay up for his episode much to the delighted awwwww of the in-studio audience.
"She said, 'Who's hosting?'" Damon joked. "And I said, 'Me. Your Dad. Matt Damon.'"
More like our dad. Because it turns out, the monologue was just one moment in an evening of comedy that made a pretty good argument for Damon, a father of four, to be America's handsome, funny, sometimes embarrassing dad.
In 2016, Tom Hanks donned a cardigan and gave America a pep-talk. "You're going to be just fine. I'm proud of you," he said. It was nice. Tom Hanks is nice. But Tom Hanks is also 62, more of a grandfather than a dad. His appearance felt like a valedictory address. America's dad was stepping down. But who would step up? On Saturday, Matt Damon did exactly that.
Damon, who remains affable and accessibly handsome, spent the running time of the show playing various relatable father figures, from a broadcaster who wins "Best Daddy" at a daddy show to a dad-band enthusiast who will ride or die for Weezer. Interestingly, none of these characters was cruel or despondent. That was in noticeably in contrast to the lowly Florida father played in the cruel "Dad Christmas" sketch with NBC aired, then scrubbed from the internet two weeks ago. Damon wasn't just making jokes. He was making a case for a role in American popular culture.
America's Dad is not a role for just any chump. It requires offering yourself up as a cultural archetype with which society can measure their own dads. America's Dad is aspirational. He's a symbol of the best of dadhood. Johnny Carson acted as a kind of distant dad. Hanks wore the title well. Ty Burrell doesn't wear his dadhood outside of his Phil Dunphy character and he's honestly not famous enough. Bruce Willis flirted with it. Also, Clint Eastwood could only capture America's weird grandfather. Honestly, Matt Damon's only plausible competition is Mark Wahlberg. Ben Affleck took himself out of the running when his marriage broke up.
Damon's campaign for the role of America's dad was most literally depicted in the "Westminster Daddy Show" sketch, which featured the actor prancing in circles as a "Pedigreed Broadcast Daddy" and taking home a Best-in-Show win. The sketch was dumb, but Damon sold it with the raw enthusiasm of a man performing for his kids, which he was both literally and metaphorically.
But nowhere was the case made for Damon's America's Dadness more perfectly the sketch called "Best Christmas Ever." The sketch featured Damon and Cecily Strong playing post-Christmas parents reminiscing about what every parent understands to be a hard day. We see dad-Damon kick down a half-built plastic playhouse clearly drawing on a deep well of personal experience. His face? The swearing? The crumpled directions fluttering worthlessly in one hand? That moment is a dad rite he clearly understands. Damon embodied the weariness and burden of fatherhood responsibilities — the early waking and white knuckling through family fights and kid chaos — while also showing the deep well of love. Yeah it sucks to build a playhouse on Christmas eve, but it's also the best to carry a sleeping kid to the car after an activity-filled Christmas day. You could see the joy on Damon's face. You could tell he knew.
This is all to say that Damon is funny and smart (he's got an Oscar for writing) and seems like a good family man. So what's the case against him? Well, earlier this year he admitted to trying to get the New York Times to shut down the Harvey Weinstein story. And then he said some very stupid stuff about sexual assault and seemed to offer sympathy for comedian Louis C.K. He has since apologized for all these things — he poked fun at his Weinstein connection in an SNL skit in which he played a rejected Good Will Hunting ornament — so that's something.
His record might not be perfect, but it seems unlikely that America will ever get as pure a dad as Tom Hanks again. Wahlberg, just by way of comparison, once committed a hate crime.
If last Saturday showed anything, it's that Matt Damon probably should be America's dad. He's sincere, funny, generous (lots of activism from that guy), sexy without being over-the-top about it, and kind of embarrassing. Add that he's got a kind of sad, divorced friend who comes over from time to time and Damon is making a strong case. What you got, Wahlberg?
This article was originally published on