'Masters of the Universe: Revelation': Timeline, Episodes and the Future of He-Man
Plus, the one episode of the old show you should rewatch!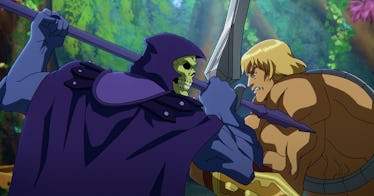 In a CG animated still from Masters of the Universe: Revelation, Skeletor (left), who wears a purple cloak and hood over his skull, grips his spear in a battle against He-Man (right), a strong shirtless blonde male with a golden armored belt and wrist plates holding a silver sword. The two are standing face to face in a forest with bright foliage.
Nobody was asking for a direct sequel to the '80s TV series Masters of the Universe, but maybe it's one of those weird nostalgic gifts we never knew we needed? On July 23, Netflix will release Masters of the Universe: Revelation, a serious-minded sequel to the 1980s cartoon you loved when you were really into swinging around a plastic sword. Created by Kevin Smith (you know that Kevin Smith) Masters of the Universe: Revelation picks up where the 1980s cartoon left-off, and attempts to answer some questions, that again, you may not even remember having. For example: Confused about why there's high-tech stuff in Eternia but also magic? Revelation is gonna get into it!
Without giving away any big spoilers, here's everything you need to know about the new adventures of He-Man and his pals. From the number of episodes to the cast, here's your cheat sheet for Masters of the Universe: Revelation.
What is Masters of the Universe: Revelation?
Masters of the Universe: Revelation is a follow-up to the 1980s series He-Man and the Masters of the Universe. According to Kevin Smith: "Our show is set up as the next episode in the legacy '80s animated series that aired from 1983-1985. This is a continuation of that story. We're playing with the original mythology and characters, and revisiting and digging deeper into some of the unresolved storylines."
What are those unresolved storylines? Well, this was He-Man, so it's not that complicated. Basically, there are a few threads from the old show that the new show picks up and runs with. Things to keep in mind about the old show.
Certain people (like Teela) do not know He-Man's secret identity
The true source of power in Castle Grayskull is very unclear
The whole deal with He-Man's sword being able to unlock castle Grayskull is very confusing.
All of this confusing/unresolved stuff is a big deal right away in the new series.
Who is in the cast for Masters of the Universe: Revelation?
Here's the cast list! It's impressive!
Chris Wood as Prince Adam / He-Man
Mark Hamill as Skeletor
Sarah Michelle Gellar as Teela
Liam Cunningham as Man-At-Arms
Lena Headey as Evil-Lyn
Diedrich Bader as King Randor and Trap Jaw
Alicia Silverstone as Queen Marlena
Stephen Root as Cringer
Griffin Newman as Orko
Susan Eisenberg as Sorceress of Castle Grayskull
Kevin Michael Richardson as Beast Man
Kevin Conroy as Mer-Man
Henry Rollins as Tri-Klops
Jason Mewes as Stinkor
Alan Oppenheimer as Moss-Man
Justin Long as Roboto
Tony Todd as Scare Glow
Phil LaMarr as He-Ro
Cree Summer as Priestess
Harley Quinn Smith as Illena
Tiffany Smith as Andra
Dennis Haysbert as King Grayskull
Adam Gifford as Vikor
Jay Tavare as Wundar
And yes, you're reading this cast list correct: That's Sarah Michelle Gellar, like the Sarah Michelle Gellar. Mark Hamill is Skeletor, Kevin "the Batman" Conroy is Mer-Man and Kevin Smith's daughter, Harley Quinn Smith is playing Illena.
How many episodes are in the series?
Masters of the Universe: Revelation will be released in two parts. Part I is hitting Netflix on July 23, 2021. It will consist of five episodes. Part II is expected to be released later in 2021, though that has not been confirmed.
Will this show ruin my childhood?
The answer is likely no. Kevin Smith is one of these guys who — like him or hate him — probably knows what he's doing. At Fatherly, we've seen these first five episodes, and all we can say is…the show is true to the spirit of the old series, meaning it's very cheesy. But, it's also grown-up quite a bit from the original version, too. It's not quite a show for little kids, but angsty tweens — or the angsty tween that lives inside 40-year-olds — will love it. Speaking to Uproxx, Smith said, "You're being handed prized possessions that don't just mean a lot to a corporation, although they do mean a lot to Mattel, but they mean something deep to people you've never met before." So, he cares.
You can also tell that certain things in the series were shaped by Smith being a dad and having a daughter. If growing up you felt like Masters of the Universe was a big boys club, that changes in the new series in a big, big way.
Which old He-Man episodes should I watch to prepare?
Revelation does a pretty good job giving the audience everything they need to know about the characters and the rules of this magic world without tempting you to go back to the old show. That said, if there's one episode you should watch before this new show, it's probably: "The Origin of the Sorceress." There's some good magical world-building stuff there that might increase your enjoyment (and comprehension) of the new show. It's on the official He-Man YouTube channel for free, and we've also dropped it right here! Enjoy!
Here's your guide to how to stream all of the old He-Man for free.
Masters of the Universe: Revelation is on Netflix starting on July 23.
This article was originally published on