The 1987 Dolph Lundgren 'Masters of the Universe' Is Still Bonkers — and Great
Rewatching the 1987 'Masters of the Universe' is a revelation.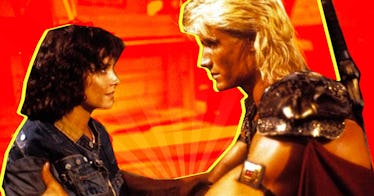 Warner Bros.
The legacy of He-Man and the Masters of the Universe lives on in the memories of grown-up '80s kids, well-worn vintage toys, brand new toys that look vintage, and in the new Netflix sequel series from Kevin Smith, Masters of the Universe: Revelation. But for those who truly believe in the power of Grayskull, the strangest and perhaps most tender memory of all is the bizarre 1987 live-action film version of Masters of the Universe. Starring Dolph Lundgren as He-Man, this movie finds the warriors from Eternia traveling across space and time to crash the prom. Starring a pre-Friends Courteney Cox as a hapless teen who gets mixed-up in the battle between He-Man and Skeletor, the plot of Masters of the Universe is almost too absurd to be believed. And yet, it happened. Here's why you should give Masters of the Universe another look, and where to watch it streaming for free. Mild He-Man spoilers from 1987 ahead.
In 1987, the magazine Starlog interviewed Courteney Cox about her roles in the ill-fated sci-fi TV series Misfits of Science and of course, the film Masters of the Universe. Try to imagine this, but in issue #124, dated November 1987, an interview with Cox about He-Man was oddly not big enough to even be mentioned on the front page of this magazine. (Space dad Patrick Stewart and old-school Robin Burt Ward were bigger draws.) And yet, Cox has a few observations about doing the one – and only — He-Man film that are hilariously mind-blowing today. "The tough part has been to give the audience the feeling of what it's like to run headlong into He-Man and Evil-Lyn," Cox said. "The character I play is not a toy creation…I'm from this world and act like a normal Earth teenager would act."
Are there non-Earth teenagers? Of course! In the cartoon version of Masters of the Universe, He-Man's alter-ego is Prince Adam, a kind of foppish teen, who pretends to be useless all the time. Oddly, for the live-action He-Man, the notion of the Prince Adam front was dropped. Also, needless to say, in the cartoon, He-Man never crossed over into a contemporary version of Earth. Doing so would be a little like if Saruman and Gandalf decided to wage a battle in suburbia. It was a bold idea, that didn't exactly predict Harry Potter, even if Voldemort's look in the films is kind of a knock-off of Frank Langella's Skeletor. If you squint.
The larger point about all of this is simple: Deciding to move the He-Man characters to a contemporary setting is so audacious, it's kind of shocking it wasn't attempted with other popular sci-fi/fantasy franchises. Imagine a cartoon where Luke Skywalker visits Earth; that's pretty much the inverse of what the 1987 Masters attempted. And when Skeletor's army of evil soldiers arrives ahead of a a big hovercraft it's the closest thing to a Star Wars film being mashed-up with something like The Last Starfighter or ET. The film was clearly unable to get Michael J. Fox to play the role of Julie's (C0x) boyfriend, but future Star Trek star, Robert Duncan McNeil was close enough. He-Man hails a taxi cab in this movie, but depressingly, never gets to wear a legit '80s denim jacket.
From the off-the-rack wacky magical faux-Yoda creature, Gwildor, to Skeletor's minimalist evil throne room, Masters of the Universe is both shamelessly derivative of every Conan-ish fantasy blockbuster ever, but also oddly unique. Sure, He-Man's "final battle" with Skeletor is absurd, but did you remember that Mr. Strickland from Back to the Future is a cop in this movie, and half of his car gets transported into Skeletor's house? The confluence of zany fish-out-of-water '80s movies and fantasy-epic-for-the-whole family makes Masters of the Universe unlike any film ever made. The familiar characters of He-Man, Teela, Evil-Lyn, Beast Man, and Skeletor were all given live-action glow-ups, too, meaning they didn't resemble the toys, at least, not exactly. This choice oddly gives the film a veneer of artistic legitimacy. The cartoon was a cartoon, but this film decided to say, yes, but these people are the real Masters of the Universe.
Sadly, no other live-action adaptation of a popular '80s kids' brand has the same goofy charm as Masters of the Universe. Arguably, the Michael Bay live-action Transformers films come the closest, but because those films sport contemporary special effects, and actually are trying to be badass, it misses the point. What's great about Dolph Lundgren's He-Man is that he knows he's not cool. Even though Courteney Cox isn't famous yet, He-Man sort of defers to her in their scenes together. In the documentary The Power of Grayskull, Lundgren said that he loved working on Masters of the Universe because it was the first film in his career he could actually show to his children. And, when you rewatch that movie, his dad-pride shows. He-Man isn't a badass in this movie. He's just a loveable goofball with a sword, who apparently goes to the gym. A lot.
As He-Man and Teela say in the movie: In Eternia, we don't say "goodbye," we say "good journey." And with this 1987 gem, you don't have to say goodbye either. It's still waiting for you, a perfect relic from the '80s, as powerful and silly as it was 34 years ago.
You can stream the 1987 Masters of the Universe totally for free on Pluto TV right now.
Masters of the Universe: Revelation is on Netflix starting on July 23, 2021.
This article was originally published on