Mark Wahlberg On TikTok Dances, Getting Jacked, and Being a "Positive" Dad
"I've obviously learned a lot from my kids."
by Donna Freydkin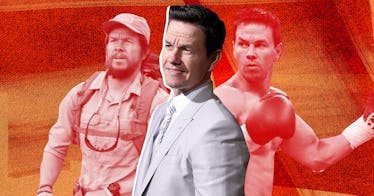 Roadside Attractions / GETTY / Paramount Pictures
Mark Wahlberg has flexed with Gronk. He's played golf with Bubba Watson. He earned an Oscar nomination for his almost unbearably tense portrayal of an abrasive cop in Martin Scorsese's The Departed. The dude is successful. The dude is famous. The dude, the youngest of nine children who decidedly did not grow up flying private or taking riding lessons, has more than proven himself and done a 180 with his life.
But here's the thing. Wahlberg has four kids. Ella, who turns 18 in September; Michael, 15; Brendan, 12; and Grace, 11, all know that their dad is one of Hollywood's most prolific producers. That he's now headlining the deeply emotional drama Joe Bell, playing a dad who pays tribute to his gay son Jadin by walking across the country and speaking out about bullying. And his kids, as kids are wont to be, are thoroughly not impressed.
"They want to be their own individuals and have their own identity. And you know, when I get told I can't come out of the car at the football game or my daughter doesn't want me to be around with their classmates and stuff — at first I could get a little offended, but then I want to understand that," he tells Fatherly. "I want it to be best for them. So if I make them feel uncomfortable because of what I do professionally, it doesn't feel good to me, but I still have to be understanding of that."
As a father, Wahlberg is all about active listening. You get the sense, from speaking to him, that it's partially a (or largely) response to his own past and a deep desire to see his kids follow a more righteous path in life; as a teenager, Wahlberg himself was involved in a number of racially charged moments, and has repeatedly apologized for his behavior, calling it "horrible." Here, he talks to Fatherly about what he's doing to raise his kids right.
I loved the video you posted of you trying to learn a TikTok dance with your wife Rhea and daughter during the COVID-19 lockdown. What are you like as a dad in real life?
I could be pretty strict. I've obviously learned a lot from my kids. The most important thing is — I'm not going to let them go down the wrong road, but as long as they're doing something positive, they're going to have my complete and utter support. I just want to make sure that we have an open line of communication — that they're there, they're seen and they're heard and they're understood and loved unconditionally. My daughter — I'm being super-protective of her, she's 17, she's going to be 18 now.
My son is 15. We're still in this pandemic and he wants to go out and see his friends and he's upset. This time has been really, really tough on teens. It's been tough, but you know, it's the most important role that I'll ever play. And it's the one that gives me the most joy and the most stress. They're wonderful kids and we want to make sure that kids are seen.
When you're raising four kids, and have a massive career, how do you make the time and space for that?
We just had a trip to Idaho. We really bonded. Even if we're at home and everybody's kind of off doing their own thing, but being in this kind of small house in the country, on the lake and being on the boat all day and hanging out — I just want them to feel comfortable enough to talk to me. I just want to make sure that we cover the broad strokes and then anything she feels comfortable talking to me about. Of course with my son, you know, making sure that I can there for him.
You have to admit, there's something really satisfying about being able to embarrass your kids. At least, for me.
Well, sometimes I take pride in that. But you know, in a way where hopefully it doesn't cross the line, you know? Sometimes it's okay if it's in a playful way, but yeah, if it's something that really bothers them then, you know, dad's got to go in the car, dad's gotta go in the car.
I know your mother recently passed away, and I'm sorry for your loss. What's the parenting lesson you took from her that you're applying to your own kids?
She was as tough as nails. If we did something wrong, we were going to pay the price for it, the consequences for it. What made her most proud was us really kind of turning our lives around and becoming really productive people and the family-oriented people that we are. She was most proud of the husband and the dad that I was. I mean, she always appreciated the successes and the things that I was able to do professionally, but the personal growth really meant something to her.
It was always the first phone call that I made every single day for the last 10 years, was to my mom. And I don't get to make that phone call anymore. And it's heartbreaking. And that's hard. Thankfully now I have my sister who has really been an enormous support system for our entire family. She was also my mom's primary caregiver. So it hit her the most.
I just went to Boston to have my birthday party — she had a birthday party for me at her house, the way my mom would have always had for me. It didn't really hit me until it was time to cut the cake. And then I realized, wow, both of my parents are not here and she's my caregiver to be there for me and be my support system. She just came up to the lake too, with her twins and her husband. And we had an amazing time. We're now communicating much more than we were because everybody obviously was off doing their own thing and they'd be in their own lives. And now we're constantly doing a multi-person FaceTime.
Let's talk about your body and how ripped you are. Everyone else is a post-pandemic sweatpants-wearing schlub. And there you are, working out every day. Where do you find the drive?
I was fortunate enough that I have a gym here. I would always encourage people to just do everything that they could — even just with their own body weight in their house, because you always feel a little bit better. It's been really depressing and hard. You think about people losing jobs, losing their businesses, all of these things that have happened.
The only way to stay the course for me is to continue to exercise. I just feel better if I start my day, that way I usually feel like, okay, I can kind of conquer the day. Between my 15 minutes of prayer and my hour and change in the gym, I feel like I've got a pretty solid foundation to hopefully make it through the day. And hopefully, you know, do what I gotta do.
Which is a nice segue to The Six Billion Dollar Man, the update of update of the classic TV show The Six Million Dollar Man. Is that in production yet?
We still haven't gotten it going yet, but I did complete another passion project that I've been working on for six years, which was Father Stu. Steve Austin — it's funny because Lee majors just sent me an email, not too long ago saying, 'Hey, what's going on?' And I always feel bad when I have to tell him that we haven't quite gotten there yet. It's really important to him, but, we haven't given up hope yet.
I have had to kind of will things to happen. I was not a conventional choice by any means to be in any of the movies that I've been in probably up until now, but I've always showed that I'm willing to work harder and be more committed. And I think my real-life experience is also an advantage in a lot of ways, because I can connect emotionally to things and convey those things.
I just keep working. I just keep working and hopefully other kids growing up in situations like mine, despite the obstacles that they have in front of them, are going to be like, okay, I know this guy's story. If he did it, I can do it. I can do it better. And I want to encourage them to never give up and to work hard and will things to happen.