Mark Strong Talks 'Cruella,' and Drops Big News About 'Shazam 2'
"Dad's just dad. He's not this sort of actor. He's just dad at home."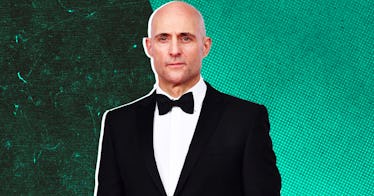 GETTY
He always makes a strong impression. How could he not with that deep, distinctive English voice, his towering, glowering presence, and that name… Mark Strong?
More than 30 years deep into his career, Strong has starred in dozens of plays, movies and television shows, among them Syriana, RocknRolla, Death of a Salesman, A Sherlock Holmes, Green Lantern, the Kingsman movies, A View from the Bridge, Shazam! and the current British television medical drama, Temple. His latest movie is Cruella, a live-action 101 Dalmatians origin story that casts Emma Stone as Estella, an orphaned young woman and aspiring fashion designer who goes to work for Baroness von Hellman (Emma Thompson), a top designer and awful human who'll do anything to stay relevant in the fashion game. Strong co-stars as John, the baroness's longtime valet, who may or may not be as much of a baddie as he initially seems.
Fatherly chatted last week with the amiable Strong about Cruella, being a dad to teen sons, and the breaking news that he will NOT reprise his role as the villainous Dr. Sivana in the upcoming Shazam! sequel. Cruella is both scary and fun. How old were your two sons when you and your wife, Liza, let them see frightening movies?I think we were always very cautious about what we showed them, quite rightly, as you should be, but then discovered quite quickly that they could take a lot of what we thought might be too scary for them. Funnily enough, The Lord of the Rings movies, for example, in which sort of millions of orcs are slaughtered in terrible ways, they kind of understood that that was fantasy. I do remember finding them hiding behind the sofa once at one of the Superman movies. I think when Superman had lost his powers and was getting a really good thrashing, but it was a proper brutal beating in a car park or something. And that they were really terrified by because it was kind of too real. So, I think when something is hyper-real, like Lord of the Rings, or even like Cruella or Shazam!, you understand that it's a world that's slightly removed from your own. I think then they're okay.What was your immediate reaction when you heard about this project and they said, "We're going to do a live-action Cruella DeVil origin story."?I just thought it was a brilliant way of bringing Cruella to the screen. You've got to make a choice, haven't you? You either go with the nasty, Dalmatian coat-wearing, evil witch Cruella, in which case she's already alienated a lot of people. So, it was very clever to look at the origin of where she came from so that you can accept this fantastic villain — and I know a bit about villains — at the end of the movie because you've been able to see her growing up through the whole movie. I thought that was a really clever idea.Based on the trailer and some of your previous performances, people may assume you're a bad guy in Cruella. What interested you about your character, John?Well, that was part of the allure, knowing that people would be assuming that I would be up to no good. So, I can spend the first half of the movie is very inscrutable. You don't really know who he is, what he's thinking. "Is he a good guy? Is he a bad guy? Is he part of the Baroness's team? What's going on with him?" I love the fact that he was a little mysterious until the point comes in the movie where you understand who he is. Of course, the problem is I can't really talk about it that much because it's so vital to the plot, but it was fantastic to play a part that let me toy with the idea of people assuming he's a villain.How did you enjoy working with the Emmas?Oh, it was hysterical. I had a brilliant time. Emma Thompson, I just spent the whole time cackling with. We're the similar ages, we've been around for the same time, and I'd never worked with her before. And we know so many of the same people. So, to be on set with somebody during your downtime, who you really enjoy and have a laugh with, was a real privilege. And Emma Stone is just brilliant. How she manages to be so focused and right in every scene, in every moment, absolutely perfectly, while at the same time when the camera's not rolling, she's just having a really normal chat with you… She's not in the zone or anything, or being deeply in character. She's a true pro. I was incredibly impressed with her. Having seen the movie, I think she's brilliant. It was a real privilege to be around the pair of them.Cruella is a family film. Do you play a character as straight in a family film as you would if you were doing an adult drama movie or a serious play? Or do you try to imbue your character with a bit of a glint, a little joy?I think you have to be aware of what kind of movie you're in. There's no good doing deep realism in a film that is meant to be entertaining and funny and a kind of yarn, which this is. So, yeah, you bring a little twinkle, a little heightened quality to the performance. Everybody throughout the film is doing various degrees of that. There are some really big performances going on, and then there's some more subtle going on, and everything in between. But you're right, you need to have just a sort of little something that heightens it, that takes you into a more comic book, a more heightened world.Going back to your sons for a moment, did you ever do films specifically for them, so that they could see Dad on screen?Well, the irony was that in most of the films that I've done, the boys couldn't see until quite recently, because I might have to do something horrible to somebody or have something horrible done to me. But if I ever consciously chose something… I've been really lucky to have done films that they've really enjoyed. Funnily enough, some of the more adult films, my elder boy is now watching. For example, the other day we watched RocknRolla, the Guy Ritchie movie, and he just thought it was the best thing he'd ever seen. I thought that was a great compliment because up until that point, they seemed fantastically uninterested in what I do. "Dad's just dad. He's not this sort of actor. He's just dad at home." So, there's a whole raft of movies they've got to see of mine, that I think they will enjoy.You produce the show Temple with your wife — How fulfilling has that been, making a show with her?It was amazing, really amazing, because for the first time you get to see some of the scaffolding that's required to put that stuff together. As an actor, you're often protected from all of that, but as a producer, you get to see quite how amazing it is that anything gets made at all because there are so many hurdles that you have to leap. But we had a success with the first season, and the second season's due out in October, so we're very pleased.What's the latest update on the Shazam! sequel?Shazam 2 is just starting production in Atlanta at the moment, because I saw Zach Levi had put a little tweet out there that's just letting people know they're about to get going. I spoke to the producer, Peter Safran, yesterday to ask if it was okay for me to say this, but you're the first person I can tell. Dr. Sivana isn't in Shazam 2. They've gone with female villains. As far as I know, it's Helen Mirren and Lucy Liu and possibly someone else. I think the idea is that they wanted to give the girls a chance, and let them get in there and do their bad guy stuff. So, yeah, Dr. Sivana's rested for Shazam 2.
Cruella is out May 28 in a hybrid release, playing in theaters and on Disney+ as a Premier Access title priced at $29.99.