The Most Popular Female-Led Action Movie In Each State Is Surprising AF
"Drop everything, Venkman. We got one."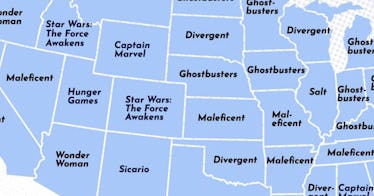 CenturyLinkQuote
It feels like the movie industry is finally getting over the idea that women-led movies don't do well. Of course, there have been some incredible ones in the past – Terminator and ALIEN being two of them – but there has been a shift over the past decade. In celebration of the release of Black Widow, one of the largest female-led action movies released to date, a new map shows the most popular female-led action movie in each state. And we're honestly surprised by the most popular one. Here's what you should know.
CenturyLinkQuote wanted to celebrate the new release of Black Widow by taking a look at the other female-led action movies of the past. So they narrowed down the scope, only focusing on the films from the past 11 years. So, by nature, they're not factoring in those older blockbuster movies such as Kill Bill, G.I. Jane, or Crouching Tiger, Hidden Dragon. And that might be why the film in the top spot is so surprising.
Instead, the data collectors looked at numbers from Rotten Tomatoes, box office revenue, and IMDb and organized the list using Google Trends and search volume to determine each states' most-googled movie in 2021. Then, they took those numbers, compiled them, and popped the data into an easy-to-read map with each state and call these "the most popular" titles.
There were some really awesome movies from the past decade that made it into the list. Utah was a big fan of Hunger Games; Ocean's 8 was a favorite for Massachusetts and Rhode Island. Wonder Woman landed on the top in five states. In comparison, Maleficent landed in second, with 8 states listing it as its top favorite.
Now, the winning movie was a controversial film that was released in 2016. It wasn't the storyline that brought the drama. It was the fact that the 2016 version of Ghostbusters was female-led that had some middle-aged purists in an uproar. The movie was loved by some, mega-hated by others.
And we're not convinced that divide didn't drive some of the search terms that won it the "most popular" title, according to CenturyLinkQuote's data. But either way, it's an interesting one, and we're not mad.
This article was originally published on