This Map Shows Everyone's Favorite Sitcom Family, State-By-State
One TV family absolutely dominated the competition.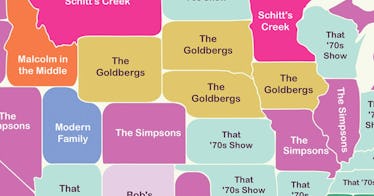 CenturyLink
Family sitcoms have been a staple of American television since its inception, as the Ricardos, Addams, Winslows, and countless others have been watched by millions of viewers over the years. But which family sitcom is truly America's favorite? Century Link wanted to find out by discovering every state's favorite.
To compile the data, Century Link created a list of 30 family sitcoms and then after determining the 12 most popular by search volume, used Google Trends to discover the most popular one in all 50 states. Here are the results, which you can see on an awesome map.
Even with their best days behind them, The Simpsons' dominance is not exactly a surprise, as the beloved animated sitcom has been on the air for over three decades and remains a cultural institution. What's really impressive is that along with winning the most states, the show also won the four most-populated states (California, Texas, Florida, and New York).
The real shock is what comes after The Simpsons, with That '70s Show managing to snag second place despite being off the air for over 15 years. Most of the 11 states it was the most-searched in were located in the Midwest, showing that perhaps the Wisconsin-based sitcom remains a point of pride for the oft-ignored middle of the country. This is good news for Netflix, as the streaming service ordered a spin-off of the series called That '90s Show in October.
Thanks to a strong showing in the South, The Fresh Prince of Bel-Air grabbed third place with seven states, while The Goldbergs (five states) and Schitt's Creek (four states) rounded out the top 5. Malcolm in the Middle and Arrested Development were the only other family sitcoms to be the top choice in more than one state.
You can read the full report from Century Link here, along with some other interesting findings, including which TV family people would most and least like to join.