Every Single Needle Drop In 'The Many Saints of Newark'
'The Sopranos' changed the game of using pop music in TV. Now the prequel movie continues that tradition.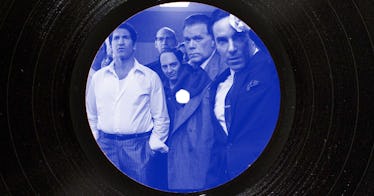 Warner Bros. Television
Whatever one thinks of The Many Saints of Newark, the Sopranos prequel hits all the right notes musically. The Sopranos, over the course of its 86 episodes, delivered memorable song after memorable song, from beloved classics to more obscure tunes, arguably the most notable example of the latter being the mob show's theme song, "Woke Up This Morning," by Alabama 3. So, we watched the just-released The Many Saints of Newark this weekend with an eye on the drama and an ear on the music.
The movie, as written by Sopranos creator David Chase and Lawrence Konner, is sprawling and ambitious, and ultimately a good, but not quite great Sopranos story. Spanning the late 1960s to the early 1970s, it introduces much younger versions of the show's characters (including Tony, Junior, Paulie, Silvio, Janice, Pussy, Livia, Carmela, Artie, etc.) and several new or barely mentioned/seen figures (among them Dickie Moltisanti, Tony's mentor, played by Alessandro Nivola; Tony's father, played by Jon Bernthal; and Dickie's father and uncle, twin brothers played by Ray Liotta). Chase's story also follows the plight of Harold McBrayer (Leslie Odom Jr.), a Black associate of Dickie's, and explores the real-life Newark race riots.
As a result of the film's crisscrossing storylines, The Many Saints of Newark squeezes in a wide variety of music, spanning from classic rock to pop, and Motown to traditional Italian. And, as a result of its two-hour running time, the movie's more than three dozen songs are mostly heard in either brief snippets or minute-long chunks, though a few receive extended play, as they complement the action on screen. When the needle dropped on The Many Saints of Newark's music, here's what we heard.
First up, here's the official soundtrack in the form of a playlist from WaterTower Music on Apple's iTunes.
And here's every song, we heard, in order.
"Stardust," by Artie Shaw
"The Jam," by Graham Central Station
"The Ballad of the Green Berets," by Barry Sadler
"Danger Heartbreak Dead Ahead," by The Marvelettes
"Nel Blu Dipinto Del Blu," by Francesco Migliacci and Domenici Modungo
"Ferry Boat Serenade," by Harold Adamson, Eldo DiLazaro, and Mario Panzeri
"Core 'Ngrato," by Domenico Caroli and Alessandro Sisca
"Somethin' Stupid," by Frank and Nancy Sinatra
"Fingertips, Part 2," by Stevie Wonder
"Then You Can Tell Me Goodbye," by The Casinos
"Come on Over," by Steve Clayton
"Ain't That A Kick In The Head," by Jimmy Van Heusen and Sammy Cahn
"Alabama," by John Coltrane
"Madama Butterfly: Act II: Un Bel Di Vedremo," written by Puccini, performed by Miriam Gauci
"Heavy Is My Heart Without You, My Brother," by Peter Nashel
"Your Soul and Mine," by Gil Scott-Heron
"San Francisco (Be Sure to Wear Some Flowers in Your Hair," by Scott McKenzie
"Forty-Five Colt Beer," by Dolores Claman and Jerry Toth
"Sway" and "Mother's Little Helper," by the Rolling Stones (actually, we hear a good deal of "Sway" as performed by Mick, Keith, and the boys, while teenaged Tony – played by the late James Gandolfini's real-life son, Michael, sings a few lyrics of "Mother's Little Helper" to Livia in an effort to convince his mother to take her antidepressants).
"I Am… I Said," by Neil Diamond
"Love Dreams," Jimmy Spellman
"Wake Up N****s," by CJ Fly, Dessy Hinds, and Ayodele Olatunji
"Tangerine," by Herb Alpert & The Tijuana Brass
"There Was a Time," by James Brown & The Famous Flames
"Knock Three Times," by Tony Orlando & Dawn
"Anyone Who Had a Heart" and "Don't Make Me Over," both by Dionne Warwick, a New Jersey legend who performed gospel as a child in Newark.
"Living in the U.S.A," by Steve Miller Band
"Mister Softee jingle" – Not really a song, but it'll make people of a certain age smile.
"Purple," by Shuggie Otis
"The Revolution Will Not Be Televised," by Gil Scott-Heron
"ABC," by Jackson 5
"Bye Bye Blackbird," by Wayne Newton
"Didn't I (Blow Your Mind This Time)," by The Delfonics
"Astral Weeks," by Van Morrison
"Never in My Life," by Mountain – This one gets a major bit of screen time, as teenage Tony, still not certain he wants to embrace a life of crime, listens to it on pilfered speakers.
"Hark! The Herald Angels Sing," by Worcester Cathedral Choir
"A Marshmallow World," by Darlene Love
"When Will I Be Loved," by The Everly Brothers
"You," by The Aquatones
"You Better Believe It," by Donny B. Waugh
"Whatever Happened to Christmas?" by Frank Sinatra
"May The Circle Remain Unbroken," by The 13th Floor Elevators
"Woke Up This Morning" by Alabama 3 – This song, which starts at the very tail end of the film's final scene and extends into the end credits, creates the direct link between The Many Saints of Newark and The Sopranos. The version famously heard in the show's opening credits runs about 90 seconds, while the movie gives us "Woke Up This Morning (Detroit Mix/Chosen One Mix)," or about two minutes and 15 seconds of the four-minute "Chosen One Remix." Interestingly, we never knew, or maybe totally forgot, that Alabama 3 is a British band.
"Calling All Angels," by Jane Siberry with k.d. lang
The Many Saints of Newark is playing now in theaters and streaming on HBO Max.