Boba Fett's 'Mandalorian' Comeback Is Based On Kids Playing Star Wars
Robert Rodriguez, the legendary 'Sin City' director, relied on toys and his sons to help plan Fett's big moment.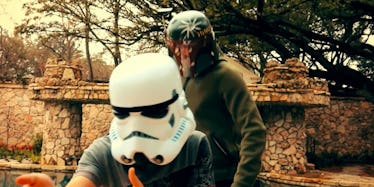 If your favorite moment of The Mandalorian Season 2 was when Boba Fett was reunited with his armor, you're not alone. Famed director Robert Rodriguez (Sin City, Once Upon a Time in Mexico) has revealed that he turned a "three-page battle sequence into a nine-minute battle…because I was just that excited." But, what you might have missed is that Rodriguez relied on his sons' playing with Star Wars action figures and costumes to help him pre-plan the epic Mando episode "The Tragedy."
In Disney+ behind-the-scenes documentary feature Disney Gallery: Star Wars: The Mandalorian, Rodriguez gets into the details on how he made sure this scene would come out the way his inner-child expected it would.
After pointing out that he wanted Fett's fighting style to be in contrast with Mando's, Rodriguez says the way he visualized this was to have his young sons play-out Boba Fett's comeback in his backyard.
"To illustrate what I was talking about, I took my Boba Fett and Stormtrooper Halloween costumes, and put them on my sons, and went to the backyard and filmed Boba's arrival."
To further get a sense of what the scene would be like, Rodriguez used his own action figures "because I didn't have stuntmen."
So, if you felt like Boba Fett's big episode in The Mandalorian lived-up exactly to what you felt like it should have when you were a kid, you're right. Robert Rodriguez is clearly a great director, but he's also a great dad. Great dads know what their kids like to play, but great dads also know what other dads like. And yes, we liked the return of Boba Fett in The Mandalorian and it's ten times sweeter to know that it took a dad playing in the backyard with his kids to make all of it come to life.
There are several, several more cool revelations about the making of The Mandalorian Season 2, which you can watch on Disney Gallery: Star Wars: The Mandalorian, "The Making of Season 2."
This article was originally published on