Watch 'Man Park' and the 4 Best Sketches From Jonathan Majors' 'SNL' Episode
From sad virgins on Dune to an awful version of 'Sesame Street,' this 'SNL' was hilarious.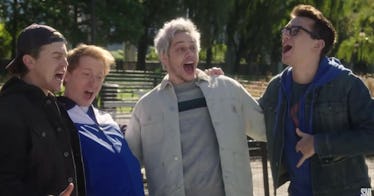 NBC
You may know him as Kang — or He Who Remains — from Loki, but Jonathan Majors' hosting stint on Saturday Night Live proved he's much more multi-talented than the multi-dimensional baddie he plays for Marvel. (Though he did remind us that he's totally showing up in the movie: Ant-Man and the Wasp: Quantumania.) This episode of SNL was also somewhat eclipsed by the news of Taylor Swift performing a song for 10 minutes in front of a music video, which is actually a release of a song she wrote nearly 10 years ago, and it's apparently about a breakup with Jake Gyllenhaal that occurred a very long time ago. If you're interested in all of that, the rest of the internet is waiting for you! (We LOVED Taylor's Dad Rock quarantine phase, FWIW.)
Anyway. Outside of Taylor Swift's whole deal, Jonathan Majors nailed it hosting SNL, and the sketches were pretty freaking hilarious this time around. Here are the best ones.
Ted Cruz's Sesame Street
Dunking on people who tried to dunk on Big Bird never gets old. This sketch reminds us why we're lucky to have the real Sesame Street.
Strange Kid Tales
Kenan Thompson and Jonathan Majors played hosts of a faux-talk show in which actual kids tell them ghost stories. Majors was great in this sketch, but the scary kids may have stolen the show.
Audacity in Advertising
Bad commercials are sooo annoying, and with this sketch, Majors and Heidi Gardner played familiar insurance peddlers "Jake from State Farm" and "Flo from Progressive" with biting satire. If you hate these kinds of commercials with a burning passion, this sketch finally proved you're not alone.
Three Sad Virgins
For a while now, SNL writers Ben Marshall, John Higgins, and Martin Herlihy have been hanging out behind the scenes as relatively new writers to the show. Essentially, they're proving themselves to be the new Lonely Island, providing an irreverent counterpoint to some of SNL's sometimes conventional humor. In this one, Pete Davidson and Taylor Swift destroy Marshall, Higgins, and Herlihy, with a little help from Dune.
Man Park
The absolute best moment of the new SNL was easily the sketch called "Man Park." For men who have a hard time making friends and who talk to their wives and girlfriends about random bullshit too quickly, this sketch will hit way too close to home. We all need to try better to make dude friends, and yes, sometimes it is just like shouting "Marvel" at each other in a park.