'Madagascar: A Little Wild' Season 3 Busts Out the Shades
Cool animals, wearing sunglasses.
by Harlan Sharpe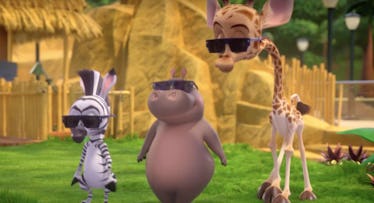 Credit: Dreamworks
If your kids have been following the adventures of the kooky animals from the series Madagascar: A Little Wild, good news! Season 3 is somehow already here.
Starting on May 27, Madagascar: A Little Wild Season 3 will begin streaming on both Hulu and Peacock. To be clear, only Season 1 of this show is free on Peacock, and seasons 2 and 3 are part of the next tier of Peacock membership.
Loosely based on the popular Dreamworks movie series of the same name, Madagascar: A Little Wild is essentially the Muppet Babies of this particular franchise. Unlike a lot of kids' shows out there right now, this show isn't trying to teach a bunch of emotional lessons or prepare kids for any serious life lessons. As the title suggests, this show is just all about animals having fun.
To that end, the new trailer ends with a bunch of zoo animals wearing sunglasses. Look, if you can't get behind this, we're not sure if you remember what cartoons are actually for.
Fatherly is proud to present the exclusive trailer for Madagascar: A Little Wild season 3. Watch the trailer below and watch the show, from Dreamworks Animation, on May 27 on Peacock and Hulu.
This article was originally published on