Macaulay Culkin Wants to Digitally Replace Trump In 'Home Alone 2' With Adult Macaulay Culkin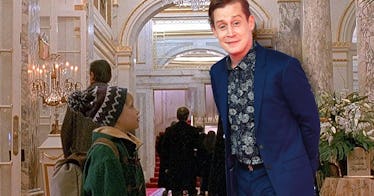 20th Century Studios / Getty
Donald Trump could be erased from Home Alone history.
If you watch Home Alone 2: Lost In New York on Disney+ right now, at one point, you'll see young Kevin McCallister have a brief conversation with hotel mogul Donald Trump. Erasing Trump from history might not be possible for those disgusted by his presidential term, but retro-Trump cameos do tend to stink-up a variety of beloved films and TV, including Zoolander, and this batshit music video from Ghostbusters 2 that I firmly believe to be unseen by human eyes, other than myself. (If that link works for you, and you see Rick Moranis talking on a payphone, Trump looking up at the Dakota Building to see Bobby Brown singing while Christopher Reeve rides a bike through Central Park, let me know. It will confirm I don't live inside of a Philip K. Dick novel.)
ANYWAY. My Ghostbusters 2 music video fever dream aside, the most infamous Trump cameo of all time is easily Home Alone 2: Lost In New York. And, at the moment, the star of that film, Macaulay Culkin has signaled his approval for how to deal with the Home Alone Trump cameo: Simply replace Trump with a digital version of how Macaulay Culkin looks right now.
After fans tweeted the idea that Trump should be "replaced with a 40-year-old Macaulay Culkin," the actor replied, "sold."
This idea is clutch. If young Kevin McCallister interacted with a 40-year-old time-traveling version of himself, suddenly, the entire canon of Home Alone starts to make sense. Did you ever see Home Alone 4, in which Kevin McCallister was inexplicably re-cast as a 9-year-old played by Mike Weinberg? How can we reconcile that with Home Alones 1 and 2. (Don't even get me started on 3 and 5!)
But, if you've got a time-traveling Kevin McCallister in HA2, then suddenly there's a larger possibility of a multi-verse. This fact could neatly solve several plot-holes in the OG Home Alone, as well as account for the existence of the less-than-stellar sequels. Basically, a time-traveling Kevin McCallister may have caused the universe to fracture, which means the entire Home Alone franchise could be reassessed kind of like Crisis on Infinite Earths; which universe does Kevin belong in? Is he always "home alone" in every version of the timeline?
Other than getting rid of Trump from Home Alone 2, digitally inserting an adult Kevin McCallister into the plot could be a backdoor way to set-up a time travel sequel. Think of this as the new Bill and Ted movie, or the Santa Claus 3. What if Kevin McCallister decided to go back in time and change his childhood? Talk about a great set-up for a new movie! Let's make it happen!
Here's hoping that Home Alone: Kevin's Wacky Time Travel Adventure gets greenlit for Disney+ and somebody sends me a check for this wonderful idea.
Also, it should be noted that Trump has already been cut-out of Candian TV versions of Home Alone 2, meaning this new idea could happen in a more low-key way.
You can watch Home Alone 2 on Disney+ right here.