Luke Skywalker's Step-Parents Are Back for New Star Wars Disney+ Show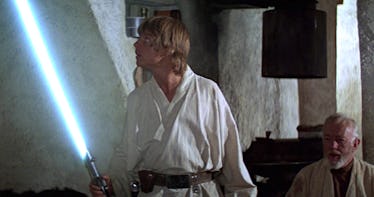 Credit: Lucasfilm
The next Star Wars Disney+ TV series is going to make the family drama of The Mandalorian look pretty tame by comparison. After The Book of Boba Fett, the next big Star Wars show is Obi-Wan Kenobi, a series starring Ewan McGregor as Obi-Wan, during his time of exile on the planet Tatooine, better known as the home planet of the entire Skywalker family. And, just to make things interesting, it's just been announced that Obi-Wan Kenobi will feature the return of Luke's step-parents, Uncle Owen and Aunt Beru! Get ready for some rowdy co-parenting between Luke's aunt and uncle, Obi-Wan and, Luke's deadbeat dad, Darth Vader.
StarWars.com has just announced the entire cast of the upcoming series Obi-Wan Kenobi. In addition to Ewan McGregor and Hayden Christensen reprising their roles as Obi-Wan and Anakin Skywalker respectively, Lucasfilm has revealed: "joining the cast are Moses Ingram, Joel Edgerton, Bonnie Piesse, Kumail Nanjiani, Indira Varma, Rupert Friend, O'Shea Jackson Jr., Sung Kang, Simone Kessell, and Benny Safdie."
The supporting cast is diverse and eclectic. (Who the hell is Kumail Nanjiani playing? He's brilliant!) But, for those of us who camped-out at midnight to see Attack of the Clones in 2002, two other names are very notable: Joel Edgerton and Bonnie Piesse, who both played Owen and Beru — Luke's future aunt and uncle — in two Star Wars prequels. Originally, the roles of Uncle Owen and Aunt Beru were played by Phil Brown and Shelagh Fraser for the 1977 Star Wars. As you may recall, they end-up totally fried by some Imperial stormtroopers, leading Luke to join Obi-Wan on his quest to find Princess Leia.
But, in Attack of the Clones (2002) and Revenge of the Sith (2005) Edgerton and Piesse retroactively became the younger versions of the Lars couple, and now that they're returning, for Obi-Wan Kenobi, they'll be reprising those roles. This is kind of a big deal, considering that the new show takes place a decade after Revenge of the Sith, meaning Luke Skywalker is probably a 10-year-old kid at this point, being raised by Owen and Beru.
In the original Star Wars film, Luke totally knows Obi-Wan Kenobi, who he calls "Old Ben." But why? Some comic books have toyed with an earlier meeting of young Luke and Kenobi, but now that this show is coming it seems very likely that Ben Kenobi will meet little kid Luke face-to-face. But, based on how Uncle Owen and Aunt Beru act in the classic 1977 film, they're not going to be super-happy about Obi-Wan meeting their adopted son. Will Obi-Wan babysit for young Luke while Owen and Beru have a date night at the Mos Eisely cantina, getting wasted on Jawa Juice? It could happen!
Even without Darth Vader in the mix (and he is in the mix!), it looks like the Star Wars franchise is set to deliver another action-packed TV series, which, ultimately is centered on childcare. We're excited to see how that shapes up in a galaxy, far, far away.
Obi-Wan Kenobi will hit Disney+ sometime after 2021.